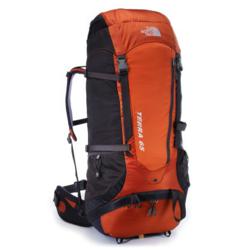 There's plenty of bells and whistles too, like a hydration bladder sleeve and a lid that can be removed and converted into a fanny pack.
Atlanta, Georgia (PRWEB) April 20, 2012
10Rate reviewers and staff selected 10 of the best hiking backpacks for 2012, assigning each a numerical rating as well as awarding three packs that stood out for quality, value, and budget. Testing and consideration for this Hiking Backpacks Top 10 list were given based on the following set of eleven criteria:
1. Comfort and Wearability
2. Volume Capacity
3. Weight Efficiency
4. Compartmental Features
5. Hydration Capabilities
6. External Straps and Stability Features
7. Frame Support
8. Cost/Value
The annual Best Hiking Backpack 2012 awards list was headed by the Mountain Hardwear BMG, winning the Best Quality spot and a near perfect 9.5 out of 10 rating. The review noted several strengths of the backpack as follows: "Designed to be used by professional mountain guides, this pack has a mammoth 7,000 cubic inches of capacity despite weighing less than six pounds. Its sleek design and numerous compression straps allow you to tighten your load down as much as possible, making this pack usable on climbing and mountaineering expeditions as well. It's on the pricey side, but imagine how much gear you can stash with that volume! It is great for group leaders who have to haul extra gear, or for a parent taking children on their first backpacking trip."
10rate's editors also gave the Best Value Hiking Backpack award to the Gregory Baltoro 75 Three Season Backpack. With a rating of 8.5 out of 10, the review boasted, "A large one (based on torso size) carries enough gear for a full week of three-season trekking, and it's as comfortable as anything on the market with its trademarked Response AFS suspension system and thermo-molded back padding that can be contoured to the exact curves of your back. It's also tough as nails, with water-resistant zippers and ripstop nylon fabric. There's plenty of bells and whistles too, like a hydration bladder sleeve and a lid that can be removed and converted into a fanny pack."
Additionally, the Best Budget award from the Top 10 Best Hiking Backpacks list went to the Lowe Alpine TFX Appalachian, for which 10rate noted, "It's cost-effective, lightweight, smaller and good for a wide range of get-your-feet-wet type trips. Lowe built this pack with a fully-adjustable back panel and makes it easier to stay organized with a zipper divider between the main and sleeping bag compartments. It will save you some cash up front, but this pack is just as burly as its more-expensive cousins (though again, it doesn't haul quite as much)."
Gregory was the only brand featured for multiple packs in 10rate's Hiking Backpack Reviews. Meanwhile, the Osprey Backpack Review for the Aether 85 had this to say for its 9 out of 10 rating: "A favorite of outdoor educators, the Osprey Aether 85 combines a sharp look with tremendous versatility on the trail. Its suspension system features peripheral rods that transfer weight from all over your back onto the aluminum stay, then down to the hipbelt and onto your big muscles. It has a custom-moldable hipbelt for comfort, and internal and external compression straps tighten down your load for stability. Not that it matters, but it's also our pick for the sharpest-looking pack of the lot."
10rate.com conducts reviews in various product and services categories and publishes "Expert Top 10 Lists for Everything in your life." The company's web site strives to "Make it Easy" to select from the hundreds of choices there are in the product and service market place. All products and services are thoroughly researched by the company's expert editors prior to receiving a rating on a 1-10 scale. In addition to product reviews the company's editors write guidelines, buying guides and articles on various topics surrounding each product or service category covered to help educate the consumer.