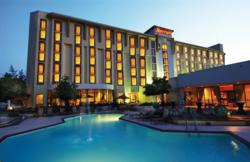 The Marriott Greenville is now in a small, elite group within the Upstate. Other properties can create a room with four walls, a fluffy mattress, and a flat screen TV, but not everyone can provide this level of excellent service. General Manager John Deck
Greenville, South Carolina (PRWEB) April 17, 2012
The Greenville Marriott Hotel has been recognized with the prestigious 2012 AAA Four Diamond Rating. The Four Diamond Award is presented to hotels that are upscale in all areas and offer an extensive array of amenities combined with a high degree of hospitality, service and attention to detail.
The Marriott Greenville is known for offering exceptional hospitality to its guests, with the staff always paying attention to details and striving for excellence. "Achieving the Four Diamond Rating is a significant accomplishment and shows that the property has a high commitment to guest service and most stringent quality standards that guests appreciate." David E. Parsons, CEO & President of AAA Carolinas.
Conveniently located in beautiful Greenville, SC minutes away from the Greenville Spartanburg Airport and the quaint and bustling downtown area, the Marriott Greenville hotel inspires the senses with contemporary luxury, vibrant colors and southern hospitality. General Manager John Deck says, "It is a great honor and privilege to have received the AAA 4 Diamond Award for the Marriott Greenville. My staff deserves the recognition. I truly have the greatest team in the Upstate. They are committed to providing our guests with the highest level of service from the moment they arrive to the moment they depart. The Marriott Greenville is now placed in a small, elite group within the Upstate. Other properties can create a room with four walls, a fluffy mattress, and a flat screen T.V., but not everyone can provide this level of excellent service."
At the Marriott Greenville you will find seven floors with 200 rooms luxuriously appointed with amenities that ensure a comfortable and productive stay. The hotel includes a convenient business center, full service spa, pool, whirlpool, and fitness center amenities as well as 12,000 square feet of meeting space. Guests also enjoy the tasty, eclectic American cuisine served at Giatu Restaurant and Bar. Whether traveling for business or pleasure, you do not want to miss the superior accommodations and exceptional service found at the Greenville Marriott.
The AAA Diamond Rating Process is North America's premier hotel rating program. Only 3.4 percent of the more than 58,000 annual inspections conducted nationally result in a Four Diamond Rating. An awards ceremony will take place in Charleston, SC in January 2013.The Greenville Marriott is locally owned and operated by JHM Hotels.
About JHM Hotels:
JHM Hotels, a premier lodging company, based in Greenville SC, has developed, acquired, owned, and operated hotels throughout the United States for 37 years. The company currently owns and operates 43 hotels with over 7400 guestrooms, located in the United States and India, operating under such well-known brands as Hyatt, Marriott, Hilton and Starwood. For more information, visit our web site at http://www.jhmhotels.com.