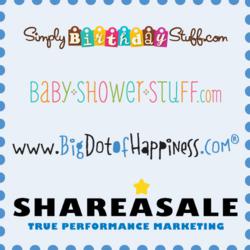 We see our affiliate marketers as an extension of us. ~ Trisha Knops, Affiliate Sales Specialist
Menomonie, WI (PRWEB) April 13, 2012
Big Dot of Happiness, LLC's partnership with ShareASale.com, a leading affiliate marketing network, connects passionate Hostess Heroes and internet marketing experts with three Big Dot Shops. Accepted affiliates will gain access to marketing tools featuring Big Dot Original baby shower decorations and birthday party supplies specific to the Big Dot Shops participating in the program.
Affiliate marketing is a fast-growing industry, generating several billions of dollars each year in commissions, so offering this type of service for BigDotOfHappiness.com, BabyShowerStuff.com and SimplyBirthdayStuff.com opens the door to opportunities that may otherwise be missed. "We see our affiliate marketers as an extension of us, so we review their applications carefully," says Trisha Knops, Big Dot of Happiness' affiliate sales specialist. "We are an exceptionally dedicated company with a staff of 40-plus party-planning Expert Experts - fanatics whose goal is to help people celebrate life's most important and memorable occasions with remarkable products and remarkable service."
BigDotOfHappiness.com gives affiliates and their followers a one-stop shop for baby shower, birthday party, baptism, bridal shower and anniversary supplies. The site offers more than 100 Big Dot Original themes along with personalized party decorations, including invitations, banners and candy bar wrappers.
BabyShowerStuff.com is a top-ranking baby shower e-commerce site that offers everything needed for quick and easy planning of a remarkable, personalized baby shower.
SimplyBirthdayStuff.com has more than 60 remarkably unique Big Dot Original birthday party themes and 100s of exclusive coordinating products.
Each affiliate marketing program is free to join for ShareASale Network members. Once approved to the Big Dot of Happiness Affiliate Program, affiliates have access to the professional product images, a variety of banner ads and text links to add to their Web sites as marketing tools. When visitors click on a Big Dot Shop link and place an order, the affiliate advertiser will receive a commission on the Hostess Hero's entire order.
"Our affiliate program is really a win-win-win," says Knops. "Affiliates quickly enhance their Web sites by offering unique options; party planners have direct access to a one-stop shop for their party planning needs; and we get to be part of an extra-special celebration."
About Big Dot of Happiness, LLC
Big Dot of Happiness, LLC, is an event party company and the originator of various games, invitations and themed party supply products called "Big Dot Originals." With personalized invitations, impressive party favors and unique party decorations, Big Dot of Happiness, LLC, makes everyday parties into extraordinary events. Making life's occasions fun. It's about time. "We create remarkable smiles by embracing a remarkable culture."
Contact:
PR Coordinator
Big Dot of Happiness, LLC
1.800.274.4282
http://www.bigdotofhappiness.com