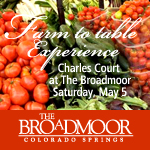 "I have trained all my life as a chef and have seen a lot of change, but the one thing that remains constant is quality of product," says Chef Barnhill. "The local farmers put a lot of love into what they are doing, and it is reflected in their food."
Colorado Springs, CO (PRWEB) April 13, 2012
Saturday, May 5, 2012, Charles Court restaurant at The Broadmoor is going back to its roots to host a "Farm to Table Experience" by partnering with Colorado farms, wineries and distilleries. The event includes a Saturday afternoon farmer's market followed by a Farm to Table Dinner at Charles Court that evening. Individual tickets and reservations to the market and dinner, as well as an inclusive overnight package are available.
Arkansas Valley Organic Growers (AVOG), a group of farmers who have come together to create a distribution system for restaurants, schools, and other businesses in the Colorado Springs and surrounding areas, will sample and sell their fresh produce to at the market. Chef Barnhill will also prepare small bites to sample using produce from the represented farms at the farmer's market, and will use AVOG ingredients throughout the Farm to Table Dinner that evening.
Charles Court and The Broadmoor has increasingly purchased from AVOG for the past two years and is currently AVOG's largest purchaser in the state of Colorado. "AVOG has been working with Chef Barnhill for the past two years as we've been growing," says AVOG Project Coordinator Marcy Nameth. "It's really exciting for us as farmers to work with chefs who truly understand what using local food is all about and are willing to try unusual and seasonal/specialty varieties."
The beverage program is also shifting with the farm to table movement at Charles Court as Wine Director Tim Baldwin continues to add Colorado wines and spirits to their wine list and cocktail menu.
The farmer's market and dinner on May 5 will showcase several Colorado wineries, including 2011 Best of Category Award winning wineries, Whitewater Hill Vineyards and Plum Creek Winery, as well as Guy Drew Vineyards, Zephyr Cellars, Balistreri Vineyards and Cottonwood Cellars. Colorado distilleries including Peach Street Distillers and others will be present with tastings of their products and will demonstrate the "craft of the Colorado cocktail".
Chef Barnhill's commitment to purchasing locally stems from his high standards for producing quality food, and from his desire to build relationships with the people he's buying his food from.
"I have trained all my life as a chef and have seen a lot of change, but the one thing that remains constant is quality of product," says Barnhill. "The local farmers put a lot of love into what they are doing, and it is reflected in their food."
About the May 5 Farm to Table Experience:
Farmer's Market and Craft of the Colorado Cocktail Event

When: Saturday, May 5
Time: 1:00 - 4:00pm
Where: West Terrace at The Broadmoor (free valet parking)
Price: $25 for individual tickets, includes food samples, wine and spirit tastings
Farm to Table Dinner at Charles Court

Date: Saturday, May 5
Time: 6:30pm reception, 7:00 dinner
Where: Charles Court (free valet parking)
Price: $79 plus tax and gratuity - 4 courses, wine included
Part of 1-night room package
1-night room package Saturday, May 5
Includes:

Standard Room accommodations for Saturday, May 5
Farmer's Market and Craft of the Colorado Cocktail ticket and samples
Charles Court Farm to Table Dinner
$50 Breakfast credit for Sunday morning
Package Price: $240 per person based on double occupancy
Visit Broadmoor.com to book the 1-night package, or call 719-577-5733 to make reservations for the Farm to Table Dinner.