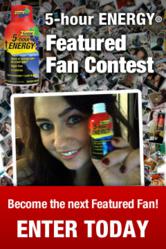 (PRWEB) April 13, 2012
5-hour ENERGY® has started another world-wide search for top brand enthusiasts with the latest Featured Fan Contest, starting April 13, 2012.
The Featured Fan Contest is dedicated to 5-hour ENERGY® devotees who use and love the energy shot. 5-hour ENERGY® fans come from all walks of life, including students, police officers and parents and this contest gives everyone the chance to be in the spotlight!
To enter the Featured Fan Contest, applicants must prove to the world that 5-hour ENERGY® shots are important and they deserve the title of Featured Fan. Contestants must submit a photo that includes a bottle of 5-hour ENERGY® along with a description of 400 words or less that explains how drinking 5-hour ENERGY® is vital in their day to day life.
Entries will be reviewed and winners will be picked by the 5-hour ENERGY® team. Winners will be chosen based on who best personifies 5-hour ENERGY®. The winners' stories and photos will be shared with other fans around the world via the 5-hour ENERGY® Fan Zone and winners will also receive 60 bottles of 5-hour ENERGY®. Deadline for submissions is June 13, 2012.
About 5-hour ENERGY®
5-hour ENERGY® is a liquid dietary supplement that provides hours of energy and alertness. It contains a blend of B-vitamins and amino acids, zero sugar and four calories. It is available at retail outlets in the United States and Canada as well as throughout the U.K, Ireland, the Netherlands and Spain.