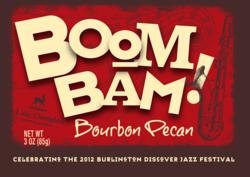 Burlington, VT (PRWEB) April 13, 2012
Lake Champlain Chocolates (LCC), the Vermont chocolate maker known for small-batch gourmet chocolates, will help kick off the 2012 Burlington Discover Jazz Festival with the release of a limited-edition chocolate bar called the BOOM! BAM! Bourbon Pecan Chocolate Experience. All profits from the sale of this new chocolate bar will benefit the FlynnArts "LCC Youth in Jazz Scholarship," providing performing arts education for young musicians.
"For years, we have been delighted by the Burlington Discover Jazz Festival and the excitement it brings to town," said Cathy Wisloski, LCC's Director of Marketing. "We wanted to give back to the community and encourage the next generation of jazz talent. This bar is the perfect way to celebrate our 15th year of supporting the festival, offer concert-goers something new, and build a scholarship fund to make jazz education more accessible to Vermont's young musicians."
Inspired by ingredients native to New Orleans, the birthplace of jazz, the BOOM! BAM! Bourbon Pecan chocolate bar harmonizes milk chocolate with bourbon-soaked roasted pecans and a touch of cayenne pepper. The sweetness, crunch, and heat blend together to create an experience that literally sings on the palate.
Lake Champlain Chocolates has set the bar high with a goal of selling 1,000 chocolate bars in less than 30 days. Priced at $4.00, it will be available for purchase from May 15th to June 10th. It can be found at Lake Champlain Chocolates' retail locations on Church Street, Pine Street and in Waterbury Center, along with a full selection of chocolate bars available online at http://www.lakechamplainchocolates.com. The BOOM! BAM! Bourbon Pecan Chocolate Experience will also be available at Flynn Center concessions during the festival.
# # #
About Lake Champlain Chocolates:
Preservative-free and Kosher-certified, Lake Champlain Chocolates are crafted in small batches from the finest quality chocolate and select natural ingredients including local Vermont cream, sweet butter, maple syrup and honey. The company offers a variety of gifts including super-premium chocolate covered fruits and nuts, chocolate truffles, chocolate gift baskets and its ever-popular Chocolate of the Month Club. Lake Champlain Chocolates are available online, by calling toll-free at 800-465-5909, as corporate gifts & wedding favors, at three company-owned retail stores in Vermont and nationwide at specialty food & gift stores and upscale hotels & inns.