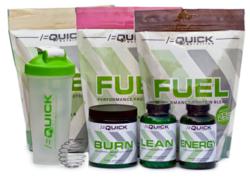 Mandeville, LA (PRWEB) April 14, 2012
A new line of health and performance supplements have been rolled out by BQuick Nutrition on the northshore of New Orleans. Developed by personal trainer and fitness expert Brandt Quick and his partner, Charles Allen, co-founder of BQuick Nutrition.
Four nutritional supplements have been developed and are now available on-line at http://www.bquicknutrition.com:

The new products were developed over the past two years, with all-natural formulations of the highest quality. Affordability and universal appeal were also goals in the development process. The four products are the first in a wider-ranging line of supplements targeting other consumer benefits.
BQuick Fuel is a full spectrum recovery protein powder formula, designed to help Fuel athletes' workouts, as well as recovery to ensure the athlete recovers properly for their next competition and/or training session. Optimized to help build and maintain lean muscle tissue, it packs in 25 grams of protein per serving. As a functional shake and performance protein blend made with all-natural ingredients, it also includes 2000mg of L-Glutamine per serving for improved tissue repair and post-exercise recovery along with 5g of fiber per serving. Available in Vanilla, Chocolate and Berry.
BQuick Energy works as an adrenal tonic to increase metabolism while strengthening the immune system. The new product helps to facilitate increased endurance and stamina along with a blend of ginsengs to support the adrenal system. It provides anti-aging effects while reducing fatigue at the same time. Its proprietary blend of ingredients increase VO2 max, which is considered the best indicator of cardio-respiratory endurance. Increased mental focus and improved blood flow are also benefits of the new supplement.
BQuick Lean is an all-natural supplement that is an antioxidant powerhouse, delivering all of the catalysts needed for effective weight management. It contains Green Tea Extract, which has been shown to support a healthy metabolism while helping regulate adipose tissue. Clarinol CLA® and metabolic enhancers can safely reduce body fat in 8 to 12 weeks. This product helps to reduce food cravings and is a potent antioxidant with many cardiovascular benefits.
BQuick Burn is a conjugated linoleic acid powder (Clarinol CLA®), a scientifically proven powder that enables one to maintain their body weight while reducing body fat and increase muscle tone. The new product delivers 4 grams of CLA per serving daily. Studies proved that just 3 grams daily reduces body fat dramatically.
For retail locations and more information on BQuick Nutrition's growing business, visit
http://www.bquicknutrition.com