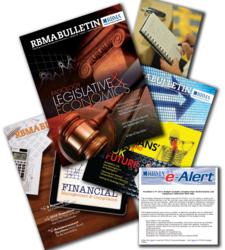 RBMA can't be beat for radiology business education nor for overall business management.
Fairfax, VA (PRWEB) April 26, 2012
The Radiology Business Management Association (RBMA), the leader in supplying radiology professionals with applied business information and intelligence applicable in any radiology setting, announces a new membership campaign.
RBMA is recognized for offering members exceptional radiology business education at two annual meetings a year, a variety of niche-specific specialty seminars, and timely virtual webinars.
RBMA also offers online private discussion Forums, bench marking data surveys, a career center, weekly and bi-monthly publications, toolkits and real-time legislative news.
RBMA is offering new members an opportunity to experience its most valuable benefits during their first year of membership by presenting the following "Briefcase" of benefits:

30-minute FREE consultation with an industry expert
RBMA bucks to use towards an annual conference in 2012
Results from an RBMA Accounts Receivable Performance Survey
Handouts and audio file from one conference session
Team RBMA long-sleeve t-shirt
RBMA "Briefcase" benefits must be redeemed in 2012.
The Radiology Business Management Association (RBMA) is a not-for-profit professional organization serving individuals whose primary business involves radiology. Established in 1968, RBMA serves as a trusted community that connects members nationwide, provides valuable information and education, and develops and offers practice-related resources for nearly 2,400 members.