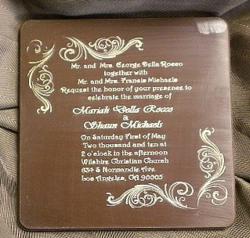 "Make a list of important things to do today. At the top of your list, put "eat chocolate." Now, you'll get at least one thing done today."

~Gina Hayes
Wellington, FL (PRWEB) April 13, 2012
Add a beautiful touch to the wedding table or decor. Perhaps a photo of the bride and groom on the wedding day, a thank you message, or provide each guest with a sweet favor. Personalized Chocolates will add a delightful touch to your wedding celebrations, and are perfect for engagement parties, invitations, individual gifts, personalized after dinner mints, very sweet menus, and Thank You presents featuring a photo from the special day. Give guests the sweetest message of them all with personalized chocolates from Chocolate Graphics.
Chocolate Graphics creates personalized chocolates for weddings and special events.
These handmade chocolates are uniquely embossed with a raised chocolate design, using a patented computerized high-resolution graphic technology. It is this patented process along with superior customer service that sets them apart from the other chocolate companies around.
Choose from one of the generic wedding designs or have individual photograph or message embossed onto the chocolate! Most designs, logos, messages or photographs can be represented on chocolate with a wide range of colors and flavors available. There is no limit to the designs possible for personalized chocolates.
"Chocolate Graphics® is such a unique product and nothing quite like it is offered in the US. Since the product's debut several months ago, it has been extremely well received and word of mouth orders are already coming in! The trend for chocolate in the US is definitely for personalization; no one wants something that everyone else can get for their special event," says Carol Webster of Chocolate Graphics International USA
Chocolate Graphics International is an Australian based company that provides personalized embossed chocolates. These chocolates make ideal gifts for weddings, promotions, the hospitality industry and for everyday occasions. Chocolate Graphics International is a company on the move. Growing from a small cottage based industry in 1996 to a global commercial venture in 2008. Chocolate Graphics International is a private company with its US headquarters in Hendersonville, Tennessee under the leadership of Carol Webster. For more information please call 561-460-4738 or visit us online at http://www.chocolategraphicsus.com/kab.html