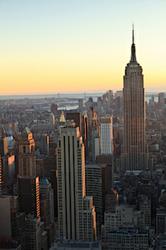 Your company won't be going anywhere if your marketing department doesn't know how to use 'that Twitter machine' properly.
New York, NY (PRWEB) April 13, 2012
If your company is still struggling to understand social media, Ragan Communications would like to show you a thing or two. From May 15 -17, the country's leading corporate communications publisher will be holding a series of three hands-on workshops in Manhattan to teach companies with floundering Facebook pages and off-key Twitter accounts how to master social media and boost their brands' social media. Subjects will include how to produce convincing online videos as well as a comprehensive overview of which tools to use to gauge the success of their online PR campaigns.
"Your company won't be going anywhere if your marketing department doesn't know how to use 'that Twitter machine' properly," says company CEO and head publisher Mark Ragan. "We're going to cover all of the basics of online PR, from producing effective YouTube videos to accurately measuring your social media campaign's success. We'll even talk about how to handle the 'yourcompanysucks.com' phenomenon."
The series will be held at SWIFT headquarters in Midtown from May 15th-17th and will consist of three separate seminars. The PR Measurement Boot Camp will teach companies how to properly measure and display the value of their communications. The Hands-On Video Boot Camp will cover the most effective ways to produce a pro-quality video on a tight budget. Finally, the Social Media Boot Camp for Corporate Communicators will take attendees through a crash course in using social networks to build their company's credibility, as well as show them how to launch their own internal social networks for employees. Each seminar costs $745, or $595 for Ragan Select members.
"Our goal is to get everyone up to speed on social networking in three days," says Ragan. "By the end of the third seminar, everyone from junior executives to 87 year-old mailroom clerks will be able to rack up all of the 'likes,' pokes, pins and followers that social media can provide."
For companies looking to enhance their social media savvy, this is a rare opportunity to learn from the best in the business. Since Mark Ragan took over the company from his father in 1995, Ragan Communications has grown into one of the world's foremost communications and newsletter publishers. Their brand includes PR Daily, Health Care Communication News and Bits and Pieces and their conferences draw more than 3,000 professionals annually.
To learn more about Mark Ragan and Ragan Communications and their workshops please visit Ragan.com. To schedule an interview with Mark Ragan please contact mark(at)ragan(dot)com or to register, call (800) 878-5331.