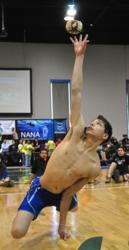 Anchorage, Alaska (PRWEB) April 13, 2012
For hundreds of years, Alaska's Native peoples used games to practice hunting and survival skills. These games helped develop strength, endurance and control over the body. Today, thousands of Alaska youth continue the tradition, with the best meeting in Anchorage for the NYO Games – formerly the Native Youth Olympics – April 27-29, 2012.
The action takes place at the Dena'ina Civic and Convention Center as 500 athletes from 50 communities will compete in such events as the wrist carry, Eskimo stick pull, and one- and two-foot high kick. Open to Alaska students from 7th through 12th grades, the NYO Games provide insight into Alaska's rich cultural heritage while promoting a healthy lifestyle and good sportsmanship. Often during the games, competitors will be seen helping each other with technique. Many schools teach Native games as part of their physical education curriculum or as an after-school culture club.
Each of the 10 events is based on skills used by Alaska's first peoples; the games include:

Considered the headline event of the games, competitors jump off both feet and attempt to kick a ball suspended high in the air with one foot, landing back on that same foot. Anchorage's Brian Randazzo Jr. kicked 111 inches to win the event last year; on the girls' side, Wasilla's Alice Strick tied her own world record at 91 inches.
A game to test a person's control over their body. Competitors balance the body on both hands in a squat position. Once the balance has been attained they will reach out with one hand in an attempt to touch a suspended ball. Then the free hand must return to the floor before any other part of the body.
Perhaps one of the most acrobatic events, the athlete tries to kick a ball suspended overhead while balancing on a single hand in an event that demands the mind and body work in harmony to maintain control. The athlete who kicks the target at the highest height is the winner.
For a full schedule of events visit the NYO Games website. They are hosted by Cook Inlet Tribal Council, Inc., the nonprofit social service agency for Cook Inlet Region, Inc.
While the NYO Games only run three days, it's not the only opportunity to see Native games or explore Alaska Native culture in Anchorage. The Alaska Native Heritage Center does daily demonstrations of the games. The center has tools, watercraft, clothing and art from each of Alaska's Native cultures, as well as traditional dwellings set alongside a two-acre lake and walking trails. More information can be found at http://www.alaskanative.net. The Anchorage Museum, featuring the Smithsonian Arctic Studies Center, showcases indigenous Alaska artifacts, many of which have never been on display. They include an 1893 Tlingit war helmet and an 1866 Gwich'in Athabascan tunic with dyed quill designs, one of the Smithsonian's oldest objects. The Anchorage Museum's permanent collection displays Alaska's cultural heritage, including information on early contact with Russians and New England whalers, the Gold Rush era and a present-day reflection of Alaska's indigenous people. For more information about the Anchorage Museum, visit http://www.anchoragemuseum.org.
Visit Anchorage's mission is to attract and serve visitors to the Municipality of Anchorage. With more than 135 miles of paved trails, one of the nation's largest state parks, first-class amenities and a blend of cultures found only in Alaska, Anchorage lives a Big Wild Life™. For more information on Anchorage's wild adventures and urban delights, visit http://www.Anchorage.net.