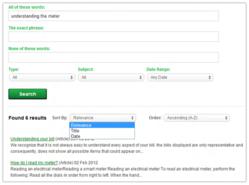 Seattle, WA (PRWEB) April 19, 2012
Safeharbor Knowledge Solutions ("Safeharbor"), a leader in knowledge management and SaaS solutions and services, announced today that is has improved its unified and cost-effective knowledge management solution SmartSupport™ to better leverage the best of Safeharbor's knowledge management capabilities with SmartSupport's ability to capture queries, understand intent, and match it to high value content. Moreover, the updates improve the functionality and usability of the administrator tools. SmartSupport allows organizations deliver exceptional customer experience by offering the most effective tools to engage with online customers
The SmartSupport upgrades include: Search Engine updates, Forum Moderator updates, Improved Dashboards for Administrators, easy to configure Forms with workflows and ticketing integration, expanded reporting and new Alert functions, all of which have significantly improved the SmartSupport user experience.
Knowledge Base Search Engine:

Expanded faceted and natural language search capabilities create industry leading speed and accuracy which shortens the time between query and resolution.
Use highly configurable search capabilities to create search workflows (create step-by-step case based reasoning).
Sort results and narrow answers easily using SmartSupport's faceted natural language search. Sort by relevance, title, content, type, date or create customized search paths for customers to easily find the information they are looking for.
Forum Moderator:
Quickly and easily manage forum activity. Moderators can track and approve new posts, comments and replies within their online community.
Review, Assign, Reply, Defer or Delete forum posts all within the Moderator Dashboard which can be accessed anywhere using smartphone and tablet devices.
Receive instant email notification whenever there is activity within the forums and configure how often notifications occur (immediately, hourly, and daily).
Reassign posts to internal agents to troubleshoot and resolve customer issues outside of the community view.
Perform bulk actions on forum activity with the click of a button.
Quickly and efficiently moderate article comments using the same features and functionality for forum moderation.
Improved Administrator Dashboard:
Streamlined and reorganized to provide an easier and more intuitive control of the KB and Community tools.
Expanded reports to improve KB and Forum effectiveness.
One-click access to popular and commonly used reports.
Forms Integration:
Create and organize unlimited custom forms and make them accessible however and wherever. Create custom drop down hierarchical menus for multiple forms or use for advanced call deflection.
Customize and edit form fields through simple menu options. Use the form tool by selecting a predetermined field (ie: First Name, Last Name, Email, etc.) or create custom fields that require text, numbers, multiple selection checkboxes or single selection drop down menus.
Configure different or even multiple email addresses to ensure that, once completed, forms are routed to correct agents. Inquiries can be handled quickly and easily and ticketing provides expanded capabilities for use with forms.
Insert custom forms anywhere on the site in a matter of minutes: make it a link, a menu, or an interactive widget.
Create a custom "Thank You" message to let a form submitter know the request has been received and will be handled appropriately.
Alerts:
Creating Alerts is just as easy as creating an article. Simply create a new alert, determine the start date and time, add the period of time to be displayed, add additional details and publish. No follow-up or manual removal required.
Alerts can be placed anywhere within the site theme! Chose to display on the homepage to alert users on entry to the site, or place into various places in the site as a constant reminder to users during their site visit about important notifications or upcoming events.
Track Alert history – alert notifications are archived within the Admin tool and can be easily reused by opening the alert and adjusting the display period.
About Safeharbor: Safeharbor Knowledge Solutions, a Washington based corporation founded in 1998, is a leader in knowledge management SaaS applications and solutions as well as contact center services that help organizations provide superior customer support, primarily in the technology, retail, banking, airline, communications and utility sectors. Safeharbor's Knowledge Management Solutions group has been providing knowledge management assistance to small and Fortune 500 companies for over a decade and helps balance ongoing efficiencies with service quality and customer experience.