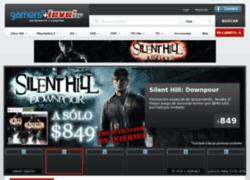 Our partnership with Gamers Retail Stores will provide fans with the latest editorial content and the ability to purchase with just a single click of a button
La Jolla, CA (PRWEB) April 19, 2012
Busca Corp. and Gamers Retail Stores announced a strategic partnership that creates the largest video game e-commerce site (http://gamers.levelup.com/) dedicated to Spanish-speaking video game fans in Latin America and the U.S. The partnership, centered on Busca Corp.'s award-winning video game editorial website LevelUp.com, addresses the growing demand for better content and easier buying options by creating an online destination for Spanish-speaking video game fans.
Busca Corp will oversee and operate the online store using their proprietary software, implement social media tools to grow and engage audiences and integrate content from LevelUp.com, while Gamers will manage product and physical distribution of video game products. Gamers.LevelUp.com will quickly transport fans through the buying process, from the identification stage through the educational search for information and concluding with instant access to purchase.
"Our partnership with Gamers Retail Stores will provide fans with the latest editorial content and the ability to purchase with just a single click of a button. This partnership as well as our strategic partnerships with MSN and Yahoo! for all of Latin America, Hispanic markets in the US and Mexico that allow us to sell games through official co-branded LevelUp channels provides publishers with direct access to one of the fastest growing video game markets in the world, the Spanish-speaker," said Busca Corp. president Ramon Toledo.
A direct by-product of the e-commerce partnership will provide publishers with a direct marketing gateway to an ever-growing Spanish-speaking video game population worldwide. In Mexico alone, where half the population is under the age of 25 the video game industry generates more sales than movies and music combined and has enjoyed an annual growth rate of more than 18 percent year over year since 2004. Latin America expects to see the sale of in-game virtual goods to double to more than $600 million by 2014. In the United States, the Hispanic population continues unprecedented 43 percent growth over the last decade.
"In addition to our partnerships and the new e-commerce deal, we are finalizing our efforts to create the first ever digital download platform catering to Spanish speaking video gamers worldwide. As we progress toward our year end goal of launch, our upcoming digital distribution platform will provide publishers and developers even more direct access to one of the fast growing video game markets in the world," said Toledo.
Busca Corp is currently working on a state of the art digital distribution platform that will allow users to quickly download their favorite games and automatically download it to their PC. The digital distribution platform launch is tentatively set for the end of 2012. More details will be released at a later date.
# # #