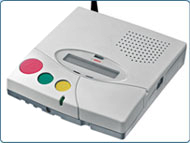 (PRWEB) April 18, 2012
When Automated Security Alert was first founded in Munhall, PA their mission was to help keep people in their own homes and out of nursing homes for as long as possible. Now Automated Security Alert is furthering their mission by helping healthcare facilities to allow residents to have as much freedom as they possibly can while remaining safe in a structured environment. Now with the help of Bosch Security Systems, Automated Security Alert's product line is expanding by offering the Bosch Nurse Call System. The technology allows residents to call for help by pushing a button on a wall unit or on a wrist unit that looks like a wrist watch. The button will signal the Nurse Call System Main Unit which can route the signal to a telephone or to a pager. What is perhaps the most intriguing feature is that the main unit can pinpoint where the signal was sent from, saving valuable time so that help can be sent to the resident immediately.
Additionally, the system can be upgraded to include a "wander sensor" that would allow the wrist device to send an emergency signal if the device were to pass beyond a set boundary. This feature can be ideal for residents who may be in the early stages of dementia or Alzheimer's disease. Jason Seyler, Automated Security Alert's Director of Life Safety said, "With our partnership with Bosch we are able to provide the best facilities solution on the market. Automated Security Alert's unmatched service and Bosch's manufacturing abilities gives facilities the edge when marketing to new consumers."
Automated Security Alert, Inc., has provided freedom and security since 1988 to over 60,000 consumers through the use of technology and services that enable seniors, physically-challenged persons and recovering patients to maintain an independent lifestyle in their homes. ASA's creative, dependable solutions include medical alert systems(personal emergency response systems); fall detection systems; telehealth and medication management systems, including electronic pill dispensers and monitored medication dispensers.
For further information, please contact Matthew Couillard at 1.800.338.7114.