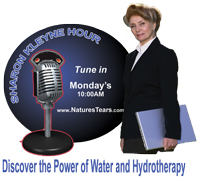 Grants Pass, OR (PRWEB) April 13, 2012
Coronary artery disease, the number one cause of death worldwide (and projected to increase), can be prevented and even reversed through a plant based diet. Sharon Kleyne, host of the Sharon Kleyne Hour Power of Water syndicated radio talk show, considers this discovery a world shaking breakthrough that could save millions of lives (Mathers, 2006) (Esselstyn, 2008).
On April 9, 2012, Sharon Kleyne interviewed Dr. Caldwell B. Esselstyn, whose findings on coronary artery disease (or atherosclerosis) are reported in his best selling book Prevent and Reverse Hearth Disease (Avery Trade, 2008).
Dr. Esselstyn was a cardiac surgeon at the Cleveland Clinic in 1984 when he began a study of 24 patients with advanced coronary artery disease whose prognosis seemed virtually hopeless. Patients were placed on a strict plant based diet and monitored for 20 years. During the study, not one person who followed the diet experienced a cardiac event (the group had previously experienced 47 cardiac events). Angiograms revealed an almost complete reversal of the plaque buildup in their coronary arteries that causes heart attacks and strokes.
According to Dr. Esselstyn, to prevent or reverse arterial plaque buildup, the following foods should be avoided: (1) Red meat. (2) Chicken and poultry. (3) Fish. (4) Dairy products (milk, yogurt, ice cream, sherbet, cheese and any product containing "caseinate"). (5) Eggs, egg whites and egg substitute that contain egg whites. (6) No oil whatsoever, including olive oil and canola oil. (7) Eat whole grains only, no refined flour products or white rice. (8) Fruit juice. (9) Nuts. (10) Avocados. (11) Coconuts. (12) Be cautious with soy products, which may be highly processed and heavy in oil and salt. Light tofu is fine, soy cheese is not.
Dr. Esselstyn and Sharon Kleyne agreed on the necessity to avoid refined sugar products, carbonated beverages, heavily sweetened granola bars, salt and fried foods. Mrs. Kleyne noted that sugar and fried foods can be addictive and difficult to quit. She reiterated the health benefits of drinking eight to ten glasses of water per day.
Things that are good to eat, according to Dr. Esselstyn, include virtually all fruits and vegetables, legumes (peas and beans), whole grains and tubers (potatoes).
Dr. Esselstyn notes that in rural China and many other remote areas, coronary artery disease is quite rare. As soon as a region begins eating foods like hamburgers, friend chicken and soda, the rate of coronary artery disease skyrockets. Dr. Esselstyn observed that in the United States, evidence of coronary artery disease can be found as early as the teens.
Sharon Kleyne several previous Sharon Kleyne Hour Power of Water guests who have referred to Esselstyn's book. They include plant based diet advocate Philip Paden, MD (November 7, 2011), T. Colin Campbell, MD, author of The China Study (frequently cited by Dr. Esselstyn) (August 9, 2010), Dr. Effie Chow, Chinese diet expert and envoy to China (August 1, 2011) and Alan Taylor, MD, vision and nutrition researcher at Harvard (March 21, 2011).
The interview closed with agreement by both Mrs. Kleyne and Dr. Esselstyn that pills and invasive procedures should be a last resort and that a long and healthy life requires proactive personal commitment to education, nutrition and lifestyle.
The Sharon Kleyne Hour Power of Water is broadcast live on Mondays, 10 a.m., PST/PDT. The syndicated talk show is heard on Voice America/World Talk Radio, Green Talk Network and Apple iTunes. Go to http://www.SharonKleyneHour.com for written summaries and on-demand replays.
Sources:
Esselstyn, CB, MD, Prevent and Reverse Heart Disease, Avery Trade 2008
Mathers, et al, "Projections of mortality and other burden of diseases from 2002 to 2030," World Health Organization, 2006.
© 2012 Bio-Logic Aqua Research