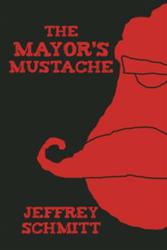 MUSCATINE, Iowa (PRWEB) April 16, 2012
Jeffrey Schmitt has wondered at times about the legal and human issues relating to eminent domain. With his new novel blending folklore with the evening news, "The Mayor's Mustache" (published by Abbott Press), Schmitt hopes to bring these issues to light through a humorous, satirical story of a man who takes a unique stand against the local government and their plan to claim his property under the rule of eminent domain.
Tom Culhaven, an ancestor of the founder of Culhaven, Illinois, finds himself in a precarious position – literally and figuratively. His property is directly in the path of the construction of a superhighway under the mayor's use of eminent domain. Tom, a senior citizen, takes offense to the idea that the government can simply take his house and demolish it to build a highway through the town he loves.
Tom stages a peculiar act of protest. Commissioning the help of his dog, Bud – a pet that only Tom can see and hear – Tom targets the mayor for his protest…more specifically, he targets the mayor's mustache.
The mayor refuses to cooperate with Tom, and Tom takes matters into his own hands, cutting off half the mayor's mustache at a town hall meeting. After he is freed from jail for the protest, Tom finds a media firestorm surrounding his story is in full burn, and his harebrained scheme may have saved his beloved old home.
"Two years ago, several news items on eminent domain caught my attention and I thought a fictional account would afford the subject some attention," says Schmitt. "I'm considered a senior citizen (age 65) and I wondered what I would do if put in the same situation as those in the articles I read."
About the Author
Jeffrey Schmitt lives with his wife, Gina, in Muscatine, Iowa. He worked in marketing, advertising, copywriting and promotion before retiring several years ago. He now focuses on his literary accomplishments, which include a place in the "Anthology of Wisconsin Poets" and a sports column for a local newspaper.
Abbott Press, a division Writer's Digest—the oldest and most respected publisher devoted to the education and advancement of writers—is an indie-publishing imprint dedicated to helping writers bring their literary vision to print. Author Solutions, Inc., a leader in indie book publishing, will fulfill publishing, sales, and marketing services for Abbott Press. For more information, or to begin publishing a book today, log on to abbottpress.com or call 866-697-5310.