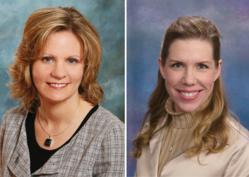 Through the STEC testing experience, AEGIS clearly understands the dynamics surrounding the proper application of test results to making balanced risk and business based decisions.
North Sioux City, SD (PRWEB) April 13, 2012
AEGIS Food Testing Laboratories (AFTL) veterans, Dr. Wendy Warren and Dr. Jodi Jurgens, were recently called upon to assist in educating the industry on the current "Big Six" non-0157 STEC testing methodologies and FSIS expectations.
Dr. Warren, AFTL Vice President of Government and Regulatory Affairs, presented at BioMerieux's Food Safety Signature Workshop "STECs: The Good, the Bad and the Unknown" on March 5th, prior to the annual Beef Industry Food Safety Council Meeting in Tampa, followed by a session at the North American Meat Processors Association's STEC Mini-Conference in Chicago entitled "Update on Prevalence and Testing Methods" on March 15th.
Dr. Jurgens, AFTL Vice President of Operations, addressed an additional group at the American Meat Association's Ground Meat Production for Safety Workshop in Kansas City, entitled "FSIS Guidance for Evaluating Test Kit Performance" on March 13th.
"AEGIS has taken a leadership role in the evaluation, testing and application of STEC methodology in the industry. This has been a great opportunity for us to demonstrate our technical competence and our ability to help our clients 'Balance Business with Science'" says Phyllis Antonacci, President and Founder of AEGIS Food Testing Laboratories.
About Aegis Food Testing Laboratories
North Sioux City, South Dakota based AEGIS FOOD TESTING LABORATORIES is an ISO 17025 accredited, commercial food testing laboratory network founded to support companies in their increasingly demanding and competitive operating environments. Aegis Food Testing Labs strives to set new industry standards for accuracy, reliability and customer service while providing a comprehensive range of value added services and solutions for its clients.
AFTL has two state-of-the-science laboratories: one in North Sioux City, SD and the second in Oklahoma City, OK.