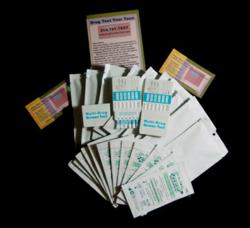 "Spice/K2 is no longer undetectable in drug tests"
(PRWEB) April 19, 2012
DrugTestYourTeen.com, a leading supplier of in-home drug tests for parents of teenagers, is pleased to announce that they now offer an in-home drug test to detect Spice (or K2), the synthetic cousin of marijuana, that is the latest teen craze. The biggest selling point for Spice has been that it is "undetectable" in drug tests, but this new in-home test changes all that, and teens need to know. "The threat of getting caught and facing parental consequences is enough of a deterrent for many teens," says Kim Hildreth, owner of DrugTestYourTeen.com.
These drugs are very popular. The Centers for Disease Control and Prevention say that 1 in 9 high school seniors has tried the drugs. Many believe that number to be substantially higher. Poison Control Centers say that calls about Spice/K2 rose from 2,900 in 2010 to 7,000 in 2011 and hit 1,200 in the first two months of 2012.
Because there is no real labeling of these products, the most dangerous things in Spice may not even be the chemicals we actually know about, but what we don't. Some states are outlawing the sale of these substances, and the federal government is working on a federal ban, but these substances are still very easily available online and in many convenience stores and head shops. Synthetic pot also goes by the names K2, Spice, Aroma, Earth Impact, Mr. Smiley, Mr. Nice Guy, Zohai, Eclipse, Black Mamba, Red X Dawn, Blaze, and Dream, among others. The products often carry the futile "not for human consumption" label.
The Drug Enforcement Administration states that smoking Spice gives a person psychological effects similar to those of marijuana, including paranoia, panic attacks and giddiness. It also can cause increase heart rates and blood pressure. Because the manufacturing of Spice is not regulated, the DEA states the combination or herbs and chemicals used can be potentially dangerous, and smoking the drug can cause serious reactions including nausea and, in at least one reported case, brain swelling. Emergency rooms across the country have reported various symptoms including renal failure. Spice has even been blamed for some teen deaths. "The chemicals are three to five times more potent than the THC found in marijuana, leading to symptoms including loss of consciousness, paranoia, and occasionally, psychotic episodes," says Tod Burke, a professor of criminal justice at Radford University in Virginia.
Unfortunately, because they are sold in stores, kids can be unaware of the dangers. "Kids need to learn that these are very dangerous," says Christina Hantsch, head of toxicology at the Loyola University Medical Center. "They tell me they would never try cocaine or heroin because they are too dangerous, and yet they are willing to try these, which can be far worse".
DrugTestYourTeen.com has been helping parents discover teen drug abuse for nearly 9 years. Kim Hildreth, owner, has added this instant test to their menu of tests that include drug tests, alcohol tests, and tobacco tests. She says that her customers have long been hoping for the release of a test for Spice/K2.
Drug Test Your Teen is offering these tests at the introductory price of $25.00 per test. Spice, like many other drugs, is only detected for a few days following consumption- but the deterrent value of random, unannounced testing will be just as effective as with other drug testing when it is combined with serous consequences and effective parenting, says Ms. Hildreth. She also states "It is important to spread the word that these tests are now available, and that these dangerous substances can now be easily detected". Visit DrugTestYourTeen.com for additional information and ordering.