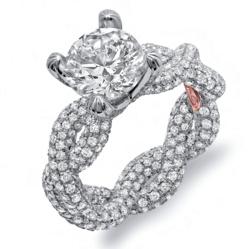 Demarco Bridal Engagement Rings introduces the unique rings flooded with diamonds.
Los Angeles, CA (PRWEB) April 13, 2012
Demarco Bridal Jewelry announce the launch of the Lovers Knot Collection from Demarco Bridal Engagement Rings. This Unique Collection of Engagement Rings are flooded inside and out full of diamonds. This very unusual look is not only breathtaking but extremely difficult to manufacture, with the utmost attention to detail from every corner of the engagement ring being covered in diamonds to the signature patented Pink Diamond on the inside of the Demarco Engagement Ring.
Why Demarco?
Demarco is a designer bridal jewelry brand, at the core of the company they have the understanding of the emotional and sentimental values that come with the process of finding the perfect ring. Not only does Demarco make every ring with a unique style and design, but each piece carries a certain elegance about it which is impossible to put in words, simply put when you see or hold a Demarco piece it's simply breathtaking.
With over five decades in jewelry design and manufacturing the quality of craftsmanship that comes with each and every Demarco piece is unmatched.
They not only offer their rings in 18K Gold or Platinum but they pride themselves with using the highest quality of diamonds. There is a certain unique approach that goes into designing and manufacturing a Engagement Ring, this isn't just any piece of jewelry… This is THE Ring.
Make sure to browse thru the entire collection of engagement rings on the Demarco Bridal Jewelry website.