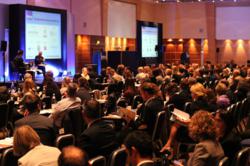 The 2012 conference will bring together the creme de la creme of the sustainability world to discuss future plans
London, UK (PRWEB UK) 13 April 2012
In a year of corporate challenges, reputational crises and economic difficulties, sustainability has never been far from the minds of leading global business players. And that's down to a fundamental shift in the way this complex topic is viewed in the boardroom.
From a cost-centre, a regulatory requirement and a risk mitigation exercise, sustainability strategy has become instead a leading creator of significant value for business.
AT Kearney's Green Winners report found that companies focused on sustainability outperformed peers by 15% during the financial crisis. Goldman Sachs found that companies with a robust ESG strategy outperformed peers by 22%. A Watson Wyatt report showed that highly trusted companies outperform peers by 300%
The evidence has been accruing for some time, and Ethical Corporation's Responsible Business Summi offers a global forum for corporations to discuss how they can leverage this opportunity. Recognised as the leading event in the space, corporations have been attending the Summit for over a decade to discuss the challenging - and changing - role of sustainability in business.
On the 8th and 9th May in London, over 400 leading executives will gather to discuss the transformation of sustainability, and the increasing interest from the C-suite in taking advantage of the opportunities that CSR present to the savvy business.
Leading CEOs will present their strategy and approach to CSR, including:

John Brock, CEO of Coca Cola Enterprises, who will discuss how to build a resilient supply chain
Paul Walsh, CEO of Diageo on how to collaborate and compete on sustainability
Peter Rothwell, CEO of Kuoni, who will discuss how to deliver behaviour change
Alongside these global business leaders, 50+ other leading sustainability executives will present, sharing best practice, strategy and insight on the many aspects of sustainability and CSR management. Ethical Corporation have run the Responsible Business Summit for eleven years, and over that time have built the Summit into the industry-leading annual CSR and Sustainability meeting place.
Nick Johnson, Chief Operating Officer at Ethical Corporation, said:
"With such a long track record of success, we're in a brilliant position to really bring together the creme de la creme of the sustainability world. The whole point of this conference is to bring businesses together to discuss future strategy and opportunity. We're thrilled that the 2012 event is shaping up to deliver more than ever before"
For a brochure setting out the topics of discussion, speakers contributing, and European practitioners attending, go here: Responsible Business Summi
For more information:
Visit the event website: Responsible Business Summi
Contact:
Catherine McNally
Conference Director
Ethical Corporation: Business Intelligence for Sustainability
T: 0044 20 7375 7531
e: catherine.mcnally (at) ethicalcorp (dot) com
About:
Ethical Corporation was established in 2001 and provides business intelligence for sustainability to more than 3,000 multinational companies every year. Ethical Corporation publishes the leading responsible business magazine, website, and research reports.