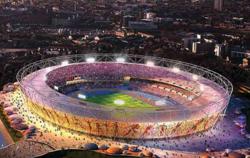 The London Olympics is definitely going to be good for business.
London, UK (PRWEB) April 14, 2012
Customers of Private Jet Central are planning to travel in record numbers to the Olympic Games due to be held in London this summer. While the opening ceremony of the games will not be until the 27th July planning for the event is already well in advance at Private Jet Central as demand for charter flights rockets. The volume of inquiries and bookings they have dealt with so far means that the athletes at the games won't be the only ones breaking records.
The Olympics are the highlight of a summer of sport in the UK and are expected to attract more than ½ million visitors from countries around the world. While it remains to be seen whether the capital can cope with such a large influx of tourists there is no doubt that Private Jet Central can handle the volume of people wishing to charter flights.
The MD of PJC has said "The London Olympics is definitely going to be good for business this year". He went on to say "We are already nearly fully booked and are having to draft in planes and crew from wherever we can".
Flights from the Middle East to London are proving to be incredibly popular and Private Jet Central has issued the following advice to their customers: book your flights as soon as possible to get the jet of your choice and the time and date of departure you want. While PJC pride themselves on offering a quality service to their customers the demands placed on their service by the Olympics are already proving to be hard to meet. The demand for larger jets such as Gulfstreams, Falcons and Challenger models has been particularly high. The addition of several Boeing Business Jets to the Private Jet Central fleet is however expected to alleviate pressure somewhat.
Pleasure and business users who wish to fly private jet to London form Dubai and other Middle Eastern locations can visit the Private Jet Central website. Flights to London and hundreds of destinations around Europe and the rest of the world can be booked quickly and easily through the website.
About Private Jet Central
Private Jet Central is a global jet charter company with offices in the United Kingdom, United States and the Middle East. Founded in 2001 they offer a range of jet charter services to business and pleasure users in the UK and Europe. With over 10 years' experience in the jet charter industry they are ideally placed to meet their client's requirements. More information on the full range of services offered by Private Jet Central is available from their website at http://www.privatejetcentral.com/ and also by contacting any of their offices by phone or via e-mail.