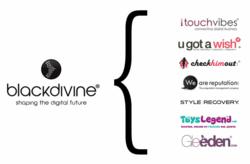 (PRWEB) April 27, 2012
Blackdivine is a US company that was created in 2008 and is based in New York and Los Angeles. Its founders created innovative startups developed in the United States and Europe. Blackdivine became a winning choice given that the company now counts millions of members through its websites: Gleeden.com, Ugotawish.com, Stylerecovery.com, Touchvibes.com, Toyslegend.com, CheckHimOut.com and Wearereputation.com.
With 7 web startups in 2 years, a successful challenge was built:

Gleeden.com and CheckHimOut.com: within a few of months, Gleeden.com became the world reference of extramarital dating websites. CheckHimOut.com's success follows closely, being the first dating website putting women in control.
Ugotawish.com: the French's favorite online store to recover designer fashion operating in Europe.
Stylerecovery.com: the premier website to sell and recover designer fashion in the USA.
Toyslegend.com: the first social shopping website where people can buy and sell second hand toys.
Wearereputation.com: a website whose aim is to manage the online reputation of businesses, politicians and celebrities.
Touchvibes.com: is the only B2B Webmarketing agency in Europe with more than 300 key customers including Microsoft, Visa, Orange, HP and Xerox.
Investment criteria:

80% of the investments are injected entirely into creating startups
The business model has to be universal and work in whatever culture or country it is implemented in
Invest in models based on change, mainly B2C
Render startups profitable within a period of 12 to 18 months
Become the pioneer and leader of brand new markets
Establish a worldwide presence and an international income
What is the magic formula to achieve profitability?

Multi-disciplinary and multicultural teams
A significant investment in marketing and communications to engage in the market
A technical roadmap particularly focused on consumer return
A business model which enables immediate ROI for the client
Blackdivine, a Y combinator?
"Blackdivine Venture" is a branch of the company whose aim is to help external startups set up and finance their project. The objective is not only to invest money in talented teams but also time and resources in high potential projects. The goal is to apply to external startups what is applied to internal startups in order to rapidly achieve profitability.