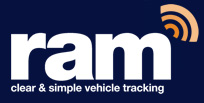 With so many solutions available in the marketplace, we know it's important to stand out from the crowd
(PRWEB UK) 16 April 2012
Developing technology that addresses customer needs and identifies real business issues is nothing new for RAM tracking. The web-based solution, which is already considered to be one of the most intuitive systems available, provides a range of benefits that reach far beyond [tracker fleet management including the ability to monitor employees' working hours, avoid excessive idling, maximise fuel efficiencies, plan the most direct routes and achieve more responsive customer appointments, protect staff safety, and even trigger alerts to notify managers of unauthorised journeys.
The new RAM Evolution goes even further, providing intuitive technology that gives users the ability to complete investigative tasks that would normally be too difficult to tackle, or with other more complex products would take much longer to undertake. This is especially important for SMEs with limited resources. The interface is so intelligent that early trials have demonstrated a further 22% in reduction in administration time needed to manage the system, in addition to 10-15% increases in return on investment.
Examples of the enhanced functionality include:

The ability to manage vehicles via maps, satellite photos or RAM's unique interactive reports that integrate to give users greater insight into their vehicles' activities for much less effort.
A unique timeline feature that allows users to look at one vehicle or an entire fleet graphically, either at a point or by replaying the journey, and from which rich information can be digested instantly without the need to analyse various detailed reports
RAM Evolution's exclusive notification tool proactively alerts managers to activities and issues that may be affecting their business and ultimately their bottom line such as vehicle usage during non-working hours, or visits to unauthorised locations
RAM has always been eager to share its knowledge with clients so that they can get the best possible results from their tracking. RAM Evolution therefore contains a comprehensive resources section with a host of useful information and advice for clients such as system tutorial videos, user hints and tips, industry white papers and legislative templates to help clients address potential employment issues.
The launch of RAM Evolution comes following an extensive research and development project led by RAM's joint managing director Martin Davies. He and his development team have spent 12 months working directly with customers to analyse usage patterns, determine the most popular functionality and further understand clients' business needs. Now RAM's most fundamental tracking functionality can be accessed instantly, and users can even configure the system to the needs of their own organisation.
Martin Davies summarises: "With so many solutions available in the marketplace, we know it's important to stand out from the crowd. The launch of RAM Evolution, supported by our enviable reputation for customer support, will further strengthen our position as the market leaders in vehicle tracking and help us cement the 35% growth that we have forecast for 2012."