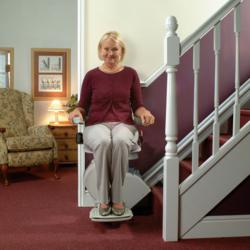 (PRWEB UK) 13 April 2012
Oakland Stairlifts today announce Brooks Stairlifts as the latest range of products on offer on their website and showroom. Oakland Stairlifts has added the new range of Brooks Stairlifts to further increase the variety of products they can offer to customers. As a Leicester based business, Oakland Stairlifts are eager to sell British manufactured products to its UK customer base.
Brooks Stairlifts were one of the first British companies to manufacture stairlifts, they are popular among UK customers due to being manufactured in Britain. Brooks Stairlifts' goods are 'slim line' which means that when they are folded up at the top and bottom of the stairs they take up much less space than any other stairlifts available in the market.
Brooks Stairlifts is a stairlift manufacturer, and was the first company within the UK to produce stairlifts that could be sold to the public. The original design made by Mr Frederick Brooks was created for his wife when she began to find using stairs more of a challenge with her arthritis.
As a British manufacturer, Brooks Stairlifts were more popular with British customers because the products were assembled closer to home. This also meant that the products were cheaper, and as the design evolved from the first Brooks stairlift, the MK1 to the latest model the 'New Lincon', Brooks have always kept their goals and customers in mind. This is why Oakland Stairlifts have included the Brooks range in their product offering.
Oakland Stairlifts Managing Director, Andy Lewis said, "We are very pleased to be stocking Brooks Stairlifts, they're good quality British products. We provide our customers with high quality products, and Brooks Stairlifts' products are the best Britain has to offer."
Oakland Stairlifts and Brooks Stairlifts are both family run businesses, and share visions and values for the future which is what makes their companies particularly compatible.
Oakland Stairlifts is a supplier of stairlifts based in Leicester, UK. The company has been trading for over 20 years. Its friendly and experienced staff provides customers with impartial and professional advice. Oakland Stairlifts will continue to expand the range of products they offer throughout 2012, and supply the best range of affordable, quality stairlifts the industry has to offer.