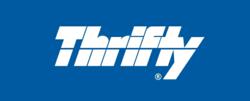 Prior to the launch of these websites, European customers booked on our English language website which was not ideal. We are now aiming to cater for these customers by offering German, Spanish, Italian and French versions of our website.
Dublin, Ireland (PRWEB) April 16, 2012
Thrifty Car Rental is aiming to build on the success of their English language website by launching a number of foreign language websites. The success of the Thrifty Car Rental formula which provides a cost effective car rental service backed up by a strong focus on customer service is already popular among European customers.
These websites have been built as standalone websites under the Thrifty Car Rental brand, and registered on the relevant domain name extension for each country. Customer research has shown that people have a preference for making purchases on the domain name extension associated with their own country. It is hoped that this will be have a positive effect, and encourage more people to visit Ireland and rent a car from Thrifty.
The websites, Autovermietung Irland, Alquiler de Coches Irlanda, Irlanda Noleggio Auto and Louer Voiture Irelande offer customers a rate that includes unlimited mileage, CDW insurance, theft protection and 24 hour roadside assistance. In 2011, there were over 1.1million visitors to Ireland from Germany, France, Italy and Spain.
"Given the number of tourists visiting Ireland each year from France, Germany, Spain and Italy, we are hoping these new websites will be a helpful addition to customers when researching car rental in Ireland." – Colm Brady, Director of Business Development
The websites are already performing strongly in this early stage, and it is intended that these websites will become part of the long term strategy of Thrifty Car Rental as it seeks to target inbound tourists into Ireland.