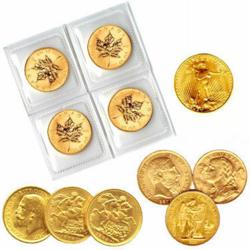 San Francisco, CA (PRWEB) April 13, 2012
Investors wondering whether they should buy gold coins or invest in paper forms of precious metals have a new guide to help steer them in the right direction. WholeSaleGoldGroup.com has published a guide that directly compares and contrasts the pros and cons of the many precious metal investment vehicles.
"According to data compiled from Yahoo! Finance, the popularity of Exchange Traded Funds (ETFs) are growing rapidly," reports WholeSaleGoldGroup.com founder and head Michael MacDonald. "However," he adds, "ETFs may not be the best investment choice for all precious metal investors. While gold, silver and copper ETFs are certainly easier and more convenient to buy, they have a number of very real downsides when compared to physical gold and silver. To help people understand the advantages of physical gold and silver -- and why they may want to buy gold coins as opposed to buying a gold trust paper stock-- we decided to publish a report on our website."
The report covers the ins and outs of buying gold coins, bullion and other forms of physical precious metals. According to the report, although there are some hassles associated with purchasing physical gold and silver when compared to ETFs, they are outweighed by their many advantages. MacDonald writes in his report that one of the chief advantages of purchasing gold coins is their current low price: "Gold coins and other forms of gold are at a four-year low. As I outline in my report, this means that now is an ideal time to buy gold coins. Myself and many other precious metal dealers fully expect gold prices to rise by upwards of 200% in the next 2-years."
In addition to gold coins, the report outlines silver investing –a precious metal that the report estimates will increase in value by approximately 200% by 2020.
Those looking to read the report themselves should head to: http://wholesalegoldgroup.com/