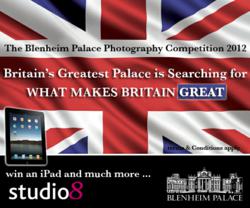 Britain's Greatest Palace is searching for What Makes Britain GREAT
Woodstock, Oxfordshire (PRWEB UK) 15 April 2012
Blenheim Palace Photography competition 2012 in association with Studio8 Photography'
'Britain's Greatest Palace is searching for What Makes Britain GREAT'
2012 is set to be a brilliant year for Great Britain: with the Queens Diamond Jubilee and the London Olympics and Paralympics taking place, the eyes of the world will be focused on Britain.
Let's show the world how GREAT Britain really is by sharing the best parts through photography. We are looking for your photographs that capture everything that is 'great' about Britain. They can include: British people, British places, British events, British landmarks, anything that captures the spirit of this great nation can be entered into this years competition.
You can also add a caption explaining why the picture is important to you (50 words maximum).
Upload up to your best photograph for your chance to win an iPad and photography course and other great prizes!
http://www.blenheimpalace.com/index/competitions/Blenheim-Palace-Photography-Competition.html
All images will also form part of an online gallery to permanently remember this amazing year in British history which will be available to view at http://www.blenheimpalace.com