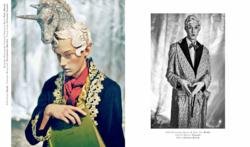 Tamara Walsh has teamed up with BuyHair.co.uk to create unbelievable masterpieces from Silky Braid Hair Extensions
(PRWEB UK) 17 April 2012
It's not just beautiful young women who buy hair extensions to perfect their look. Designer Tamara Walsh has teamed up with BuyHair.co.uk to create unbelievable masterpieces from Silky Braid Hair Extensions, transforming her models into fantasy characters.
Tamara trained at the London College of Fashion, graduating with a degree in Wigs and Make-up for Film and Television. She began to work for the following ten years in theatre, film and television, subsequently freelancing at the Royal Opera House, Covent Garden. Tamara has years of experience under her belt, ranging from hair and make-up design for theatre to creating bespoke headpieces for leading magazines.
In January 2011, a collection of black and white block headpieces were commissioned by Harrods, made from millinery materials and hair. Tamara's work is now seen on celebrity clients worldwide, with American singer, Lana Del Rey, wearing one of Tamara's flower head bands on the cover of her new single "Video Games," and also a flower garland commissioned for Lana's music video "Born To Die".
BuyHair.co.uk are thrilled and astonished to see their Hair Extensions used in such artistic brilliance, and are excited to maintain a close working relationship with Tamara in the future.
This unusual use of hair isn't new to BuyHair. They have seen customers ranging from fisherman using hair for fly tying, to people using real human hair to create decorative dolls and toys.
Human hair extensions are mainly sourced from hair sacrifices in Indian temples and dispatched to China to be treated. They are becoming so popular that the demand is now greater than supply and manufacturers are struggling to keep up. The hair extensions industry is growing and diversifying so fast that it could soon become one of the leading e-commerce industries in the world!
View the extensive range of hair extensions and hair products to see if you can get creative at http://www.buyhair.co.uk