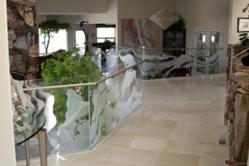 UltraSEAL ABW doesn't dampen out sandblasting but resists fingerprints and water. To me, no other product is like it.
Valley View, OH (PRWEB) April 16, 2012
Fox Fire Glass LLC creates one-of-a-kind artistic and functional architectural glass, including large sandblasted installations. Their sandblasted designs need a protective coating to resist dirt and environmental contaminants, but conventional coatings dampen the contrast of the sandblasting, hiding the beauty of the design. Donna Stiefel, owner of the Michigan glass company, recently found a solution in Clarity UltraSEAL ABW from [Nanofilm. The invisible nanocoating protects the surface without dampening or darkening the sandblasting.
"To me, no other product is like it," says Stiefel of Nanofilm Clarity UltraSEAL ABW. "In the past we lacquered the surface, which dampens the whiteness of sandblasting and can remove the contrast of the artwork." Other glass sealing products were equally disappointing. "The coating had a brownish tint to it," she notes. "On large installations it almost made it a swampy brown color."
Fox Fire Glass's most recent UltraSEAL ABW installation is a 40-foot continuous glass stair railing and balcony railing in a residential setting. "It's made of a series of solid glass pieces with the sandblasted surface creating a continuous mural," says Steifel. "UltraSEAL ABW doesn't dampen out sandblasting but resists fingerprints and water."
Ease of application is another reason Fox Fire Glass chooses Nanofilm UltraSeal ABW over conventional coatings. Another product, notes Steifel requires a cumbersome two-part application. "If you apply the first chemical and miss a quarter-inch spot, the second chemical wouldn't adhere," she says. "Going back and reapplying doesn't work well either because blending it is very hard." Another coating has a strong unpleasant scent. "We called it the Skunk Stuff," she laughs.
Applying UltraSEAL ABW is a one step process. The coating is in a self-contained applicator. The user simply wipes it on, and then wipes off any excess after one minute. No buffing is required.
Nanofilm Clarity UltraSEAL ABW chemically bonds to glass to create a long-lasting seal that resists water, oils, dirt and contaminants. It's weather- and sunlight-resistant so it is suitable for interior and also exterior surfaces whenever practical. "On interior installation we shouldn't ever need to reapply UltraSEAL ABW, probably not even on interior commercial applications," Stiefel confirms. For exterior glass, where the panels see sun, rain and lots and lots of grime, the UltraSEAL ABW coating will need reapplication "maybe every three years," suggests Stiefel.
Nanofilm coatings can be used to refurbish the original coating on site within seconds using a simple re-application process at ambient conditions without any complex curing or heating steps. Clarity UltraSEAL ABW is one of a family of Nanofilm nanotechnology coatings for glass and ceramic surfaces to protect the surface and add new performance features, such as ease of cleaning, protection from environmental and cleaning chemicals, stain and mar resistance, and enhanced scratch resistance.
About Nanofilm (http://www.nanofilmtechnology.com) is a leader in nanofilm technology and self-assembling thin films for a variety of substrates and surfaces. With an in-house team of nanotechnology specialists, the company continues to leverage its rich technological strengths and core competencies to capture growth opportunities in nanotechnology applications worldwide. Nanofilm is a privately held company with headquarters in Valley View, Ohio, near Cleveland.
About Fox Fire Glass, LLC: (http://www.foxfireglass.com) Fox Fire Glass LLC provides decorative functional glass for commercial and residential architectural projects. Working with architects, interior and exterior designers, general contractors and project owners, they consult, design and fabricate a wide variety of decorative glass structures and art glass products. Fox Fire Glass, LLC specializes in the use of heat forming, sandblasting, air brushing and metal veneers in unique hand fabricated products.