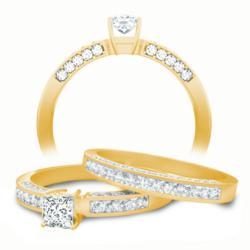 Pear Shaped Engagement Rings have become very popular in the last 5 years, as many celebrities have their wedding rings made with pear diamond.
Cockeysville, MD (PRWEB) April 14, 2012
Pear cut diamonds or teardrop diamonds have been around since the 1400's. As a combination of the round brilliant and marquise diamonds it was first crafted by the gifted cutter and gemstone artist, Lodewyk van Berquem. Now JewelOcean is proud to include Pear Shaped Engagement Rings in its wedding collection. The Pear Engagement Rings collection would be available to customers from April 12th, 2012 onwards.
When looking for a pear diamond engagement ring over another cut of engagement ring, there are many factors which make the former more appealing. For one, a teardrop cut engagement ring allows the wearer to have two different styles; where a round cut or princess cut is the same either way the ring is worn, a pear shaped engagement ring can be worn pointed end towards or away the hand, and many see wearing it pointed away as slimming to the fingers. The teardrop shape arguably has the most sparkle and fire of the major diamond cuts and since its development all those years ago, it has been used by expert gem cutters to showcase the largest most flawless diamonds in order for them to reach their full potential.
Keeping to its standards, JewelOcean Pear Engagement Rings are available at cheap and affordable prices, as the company is direct jewelry manufacturer and a leading online discount jewelry retailer. The Pear Diamond Rings are also available in many designs just as antique design, art deco design, and modern design, so that women can find their dream pear shaped diamond ring setting. Keeping the brilliant nature of this diamond cut in mind, Jewelocean.com is proud to make itself home to a formidable collection of pear cut engagement rings, and starting now, all adjustable engagement rings can be fitted in all three major cuts: round brilliant, princess and pear diamond or teardrop diamond.
JewelOcean.com is a leading online jewelry retailer, specializing in retailing diamond engagement rings at affordable and cheap prices. All purchases on the website come with guarantee certificate, with refund policy and lifetime warranty options. Customers interested in looking at the pear cut engagement rings should visit JewelOcean.com.