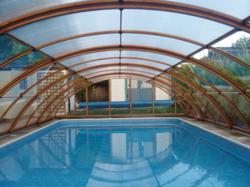 Swimming Pool Enclosures offer impressive savings on swimming pool heating, maintenance, and chemical costs.
(PRWEB UK) 15 April 2012
With the current high cost of energy, heating an outdoor swimming pool is an expensive business.
However, swimming pool enclosures have made a massive impact on the cost, convenience and usage of outdoor swimming pools in the UK. Pool enclosures offer many benefits to swimming pool owners, and their ability to absorb heat from the sun and retain it, effectively provides pool owners with a free source of heating.
For many people the idea of having a private pool is something of a dream on those hot summer days. However in reality, those days are few and far between and having a pool, without a pool enclosure, can be something of a nightmare in terms of the cost, maintenance and safety.
A swimming pool enclosure provides an opportunity to use an outdoor swimming pool for most, if not all year around. And the running costs, maintenance and heating of the pool are vastly reduced. Even in the UK summer, in most cases, a swimming pool enclosure will completely remove the need for heating at all. Your pool water is kept beautifully warm and clean and the temperature of the air around the pool remains warm and free from draughts, so spending more time in the pool, is much more enjoyable.
Another big issue for pool owners is the amount of time spent cleaning the pools, versus the amount of time actually spent using and enjoying it. With any outdoor pool, it needs to be cleaned virtually each any every time it's used. This generally means the amount of time spent cleaning the pool is totally disproportionate to the amount of time spent actually using it. However a swimming pool enclosure keeps the pool water perfectly clean, as no debris will be able to get into the pool or the surrounding area. Also the UV filter on the enclosure roof inhibits the growth of algae.
This lack of debris in the pool, including insects and animals, has a real impact on the quality of the water and chemical usage. Without the debris, the chemical balance within the pool is more stable and therefore requires much less chemicals need to be used.
A final, and essential consideration for swimming pool owners, is pool safety. This is paramount if there are children or pets around, as there is the constant worry, that they may get too close to the pool and accidentally fall in. By placing an enclosure around the swimming area this worry is eliminated, as there is no way that children will be able to open the enclosure and pets certainly wouldn't be able to! No one will be able to access the pool without being able to open the enclosure, giving the pool owner great peace of mind.
Given the range of benefits a swimming pool enclosure offers, it is not suprising they are now becoming an essential investment for those with an outdoor swimming pool. Also the number of design options available has grown considerably in recent years providing a range of design options to complement any pool and pool surround. For further information from the UK's leading Swimming Pool Enclosure specialists. Visit their web site at http://www.ukpoolenclosures.co.uk