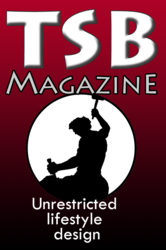 Hoboken, NJ (PRWEB) April 18, 2012
TSB Magazine, a popular online resource for dating advice and men's interest stories, has recently released a series of videos aimed at teaching guys the best methods for communicating with women via text message. The series, currently available on YouTube, features advice and insights from TSB founder and author Bobby Rio and texting expert and TSB columnist Rob Judge.
The two also recently released an eBook called Magnetic Messaging, which takes a more in-depth look at flirting over the phone.
These new videos focus on common misconceptions that men have about the optimal way to text women who have given them their phone number. Judge and Rio both appear in the videos to point out mistakes that many guys make while texting and also to suggest more effective strategies for communicating and flirting with women via text.
The series starts with the video "Best Texts to Send a Girl - and How to Text Flirt." In this offering, Rio and Judge contend that the way that a majority of men text women - sending standard greetings and generic "how is your day going" messages - is not the optimal way to move a relationship to the next level.
The two experts offer advice on the types of messages that will draw out a positive response and increase the chances of a more flirtatious, more sexual relationship. Basically, their strategy is to use texting as a way to spark a women's interest with unique and flirtatious messages, rather than using texting as a stand-in for a face-to-face conversation.
In the next video, "When to Text a Girl - Plus What Should Your First Text Say," Rio and Judge argue that guys should disregard the long-held, but unwritten, rules about waiting a certain amount of time before contacting a women who has given her phone number. They again stress the importance of standing out from the crowd by sending interesting, flirtatious texts that do not follow the standard "hi, how are you" approach.
Another offering, "How to Ask a Girl Out Over Text," teaches a casual approach to asking for a date via text. The two experts suggest that setting up a meeting via text is best accomplished by making a nonchalant request: "I'm going to be at such and such as place at this time, stop by if you can." They contend that this is better than asking for a more-formal date because it lessens the sting of rejection and also sets up a pattern of casual texting that allows for more informal invitations to be made in the future.
In addition to these casual, conversational videos, Rio has created a set of more formal presentations, also available on YouTube, which organize the information discussed in the other videos into a powerpoint slideshow with voiceover.
In addition to publishing dating advice books and creating videos, TSB Magazine regularly publishes texting flirting advice on its website, alongside other dating advice and general men's interest stories.
More information: http://www.tsbmag.com/texting-girls/