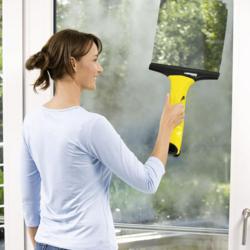 (PRWEB UK) 13 April 2012
UK wholesaler TW Wholesale today announced that they will be offering their customers the new Karcher Window Vac. TW Wholesale is eager to bring customers this product due to the current television campaign which has increased its popularity.
The Karcher Window Vac is a new household appliance designed to meet the needs of homeowners cleaning windows and surfaces inside the home every week. The product sprays cleaning fluid onto dirty surfaces and has an attachment that is used to initially clean them. The Karcher Window Vac can then remove any excess residue without leaving streak marks on the surface by hovering it up.
Traditionally supplying a range of SIP products including the SIP MIG Welder more commonly used in industrial environments, the Karcher Window Vac is used for everyday cleaning around the house. Many people are currently giving their home a spring clean and finding dirty walls and redecorating. The Karcher Window Vac can be used to clean any surface including walls.
The Karcher Window Vac is highly anticipated by customers, its innovative design enables in home surface cleaning without the mess. With the Window Vac there's no need for a bucket with soap to wash windows. It's quick and easy to use without making a mess, a problem many home owners will be happy to leave in the past.
TW Wholesale is a UK based cash and carry that provides many different products to customers all over the country. Products on offer range from SIP Welders to the SIP Compressor. The wide selection of products shows that TW Wholesale is a company that is in touch with customer demands, the Karcher Window Vac is anticipated to be a great success. TW Whole sale is proud to supply the Karcher Window Vac to its customers and will continue to offer new and innovative products.
Based in Swadlincote, Derbyshire, T.W.Wholesale LTD expertly supply & distribute, hand, garden & power tools across the length & breadth of the country. Stocking products to suit the needs of the savvy DIY enthusiast to trade and business customers also including diamond core drill bits. The company is independently owned and managed by Eban Watton and Richard Watton. Since its incorporation the company constantly improved & evolved the business into a well-respected and trusted company used by thousands of clients with a customer base that grows year on year.