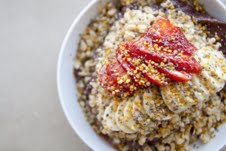 This aggressive [food truck] launch timeline required an execution-focused mentality that has prepared Downing and Jordan to expand to brick-and-mortar in less than a year.
Austin, TX (PRWEB) April 13, 2012
On April 21, 2012, two best friends in their mid-twenties, Erin Downing and Kara Jordan, will swing open the doors to Austin's first açaí café, Blenders and Bowls. The new café will feature fresh fruit blenders (smoothies) and organic açaí bowls in a mixed-use space on the northeast corner of 4th and Brazos. Açaí, pronounced 'ah-sigh-EE', is a native fruit to the Brazilian Amazon that has gained popularity in the U.S. over the past decade and is associated with a healthy lifestyle. This lends itself well to an arrangement that presented Blenders & Bowls with the opportunity to set up shop in the same building as the first Wanderlust LIVE yoga studio and music venue.
Downing and Jordan, friends for over fifteen years since growing up in Santa Barbara, CA, moved from Hawaii to Austin in late 2010 and felt the city had everything to offer, except for the invigorating flavors of açaí. "What started off as a mean craving soon turned into pure determination to share the true powers and flavors of açaí with Austin," says Downing.
This drive moved them to pursue and secure start-up funding to open a health-conscious mobile food truck, known as Blenders and Bowls, that they got up and rolling in just two months by Summer 2011. This aggressive launch timeline required an execution-focused mentality that has prepared Downing and Jordan to expand to brick-and-mortar in less than a year.
"Opening a food truck is a perfect way to assess the Austin market before opening permanent locations," says co-owner Jordan. "This accessory café is an ideal stepping stone towards our goal of having multiple cafés in Austin and even spreading our love for açaí nationally."
The Blenders and Bowls café menu includes blenders (smoothies) and bowls that are high in fiber and packed with protein. An açaí bowl is made of organic Brazilian açaí blended into a sorbet-like consistency, then topped with a variety of wholesome ingredients, like fresh fruit, hemp granola, chia seeds, and honey. The café will also offer healthy grab-n-go items, nutritious pick-me-ups for pre/post workouts or anytime in between, as well as coffees, teas, and daily specials. Beyond incorporating local Round Rock Honey into the delightful menu, there are plans to partner with other local food producers in the Austin community.
According to Downing and Jordan, "The café opening is a sure sign that many more people will be enjoying açaí. We believe if you put good food into your body, you will feel good. Let us energize you at the café!"
The Blenders and Bowls soft opening week will run from April 16th-20th with a limited menu. Anyone with an appetite for a refreshing treat is invited to attend the grand opening event on Sat., April 21st from 9 a.m. to 4 p.m., for specials and giveaways throughout the day.
Blenders and Bowls is located at 206 E. 4th Street, Austin TX, serving good vibes and real good food M-F 7am-4pm, Sat 9am-4pm, Sunday 9am-2pm.
Follow Blenders and Bowls on Facebook and Twitter for information about the grand opening celebration and café news.