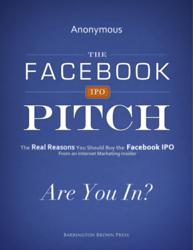 Readers will feel as though they are in the room watching Facebook executives give the real pitch — and at the close, can answer the question, 'Are you in?'
Washington, DC (PRWEB) April 13, 2012
Facebook is going public. In a few weeks, everyone will have the chance to decide whether to buy Facebook stock. Everyone is trying to figure out the value of Facebook. Anonymous — an internet marketing insider — explains why Facebook holds enormous economic value.
In "The Facebook Pitch" readers will learn why marketing pros love Facebook. Will Facebook beat Google to become the online advertising leader? The surprising answer from an expert is in "The Facebook Pitch."
"The Facebook Pitch" is a pitch — an advertising pitch — written by a veteran in the advertising world. It is as though Facebook got to write the pitch it wanted without listening to lawyers and the SEC — the real inside story. Readers will feel as though they are in the room watching Facebook executives give the real pitch — and at the close, can answer the question, "Are you in?"
CNBC's Gary Kaminsky highlighted the inside story told in "The Facebook Pitch" yesterday on CNBC's Squawk on the Street program.
"The Facebook Pitch: The Real Reasons You Should Buy the Facebook IPO" is published exclusively in eBook format by eBookIt.com and is now available from online retailers, including Amazon.com and Barnesandnoble.com.
About Anonymous
Anonymous runs a Digital Advertising Agency/Internet Marketing Company. She/he prefers to remain anonymous so that she can express her true thoughts on the state of Digital Advertising and Internet Marketing. She is particularly concerned about airing her true thoughts about the state of Google, which you will read herein. She also does business with Google and thinks it best for that relationship, and others in the industry, if she were to remain anonymous.
About eBookIt.com
Since 2010, eBookIt.com (based in Sudbury, Massachusetts) has helped thousands of authors and publishers get their books converted to ebook format, and distributed to all the major ebook retailers, including Amazon.com, Barnesandnoble.com, Apple iBookstore, Kobo, Sony Readerstore, Ingram Digital, and Google eBookstore.