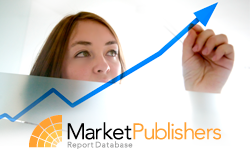 London, UK (PRWEB) April 13, 2012
The worldwide home healthcare market is in its growth phase, with a projected CAGR of 7.7% from 2011 to 2016, but can be considered significantly established in the developed regions of the world which account for the majority share of 80%. The developing nations like the Asia-Pacific and ROW account for the rest 20%, but show a strong growth potential mainly due to the large untapped patient base. The Americas also maintain a stable growth, and commanded the largest share of 52.1% in 2011 of the global home healthcare market.
The global aging population is set to increase to 973 million by 2030, with Japan and South Korea being the world's fastest aging countries. Another factor contributing to the growth of the home healthcare market is that an increasing number of countries are experiencing the shift termed "epidemiological transition". The demand for home healthcare is increasing because of the high incidence and prevalence of the chronic disease conditions.
New research report "Home Healthcare Market (Equipment, Service & Telehealth/Telemedicine) Current Trends, Opportunities & Global Forecasts to 2016" provided by MarketsandMarkets has been recently published by Market Publishers Ltd.
Report Details:
Title: Home Healthcare Market (Equipment, Service & Telehealth/Telemedicine) Current Trends, Opportunities & Global Forecasts to 2016
Published: April, 2012
Pages: 399
Price: US$ 4,650
http://marketpublishers.com/report/medicine_pharmaceuticals_biotechnology/healthcare_equipment_services/home_healthcare_market_equipment_service_telehealthtelemedicine_current_trends_opportunities_global_forecasts_to_2016.html
The report examines the global home healthcare market over the forecast period from 2011 to 2016, offering market data for the various market segments and geographies. It also provides market trends with respect to drivers, restraints, and opportunities.
Major market segments covered include: home healthcare equipment market, home self-diagnostic monitoring equipment market, mobility assist and other equipment market, Home healthcare services market, and home telehealth market.
The geographies studied include: the Americas (the U.S., Canada, Brazil, Mexico, and the rest of the Americas), Europe (Germany, France, U.K., Italy, Spain, Russia, and the rest of Europe), Asia (India, China, Japan, South Korea, and the rest of Asia), and ROW (the Pacific region including Australia and New Zealand, the Middle East and Africa).
Report Contents:
1 Introduction
1.1 Key Take-Aways
1.2 Report Description
1.3 Markets Covered
1.4 Stakeholders
1.5 Research Methodology
1.5.1 Market Size
1.5.2 Key Data Points from Secondary Sources
1.5.3 Key Data Points from Primary Sources
1.5.4 Assumptions
2 Executive Summary
3 Market Overview
3.1 Introduction
3.2 Need for Home Healthcare
3.3 Market Segmentation
3.4 Evolution
3.5 Market Dynamics
3.5.1 Drivers
3.5.1.1 Aging population is a key factor contributing to the adoption of healthcare at home
3.5.1.2 Rising healthcare costs create a need for more affordable treatment options
3.5.1.3 Rising incidence of chronic diseases directly impacts the demand for therapy and monitoring at home
3.5.1.4 Technological advances make durable medical equipment a feasible option for use at-home
3.5.1.5 Rise in the number of home healthcare personnel
3.5.2 Restraints
3.5.2.1 Unique risks to the personal safety and health of the healthcare workers
3.5.2.2 Change in reimbursement policies
3.5.2.3 Limited coverage for home care devices
3.5.2.4 Regulatory obstacles for newer generation of home healthcare products
3.5.3 Opportunities
3.5.3.1 Strategic aligning offers cost efficiency
3.5.3.2 Telehealth improves patient monitoring
3.5.3.3 Home healthcare market shifting focus to developing regions
3.6 Market Share Analysis
4 Home Healthcare Equipment
4.1 Introduction
4.2 Drivers
4.2.1 Cost & Convenience
4.2.2 Increasing Awareness of Self-Diagnostic Methods
4.2.3 Rising Prevalence of Diseases & Aging Population
4.3 Restraints
4.3.1 Restrained Technology Adoption
4.3.2 Lack of Direct Reimbursement Policies
4.3.3 Fast Changing Technologies
4.4 Self Diagnostics / Monitoring Equipment
4.4.1 Market Dynamics
4.4.1.1 Increasing prevalence of lifestyle diseases
...
More new research reports by the publisher can be found at MarketsandMarkets page.