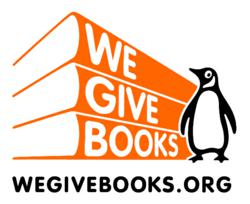 Ft. Worth, TX (PRWEB) April 16, 2012
Today, We Give Books kicks off its national ReadMobile tour in the Lone Star State. Students from more than 25 schools will receive a special visit and free children's books because of their participation in the national online reading celebration called Read for My School.
In February 2012, We Give Books, a digital literacy initiative from the Penguin Group and the Pearson Foundation, announced the first-ever national Read for My School campaign, which allowed readers to designate a school to receive free children's books. The overwhelming response to the campaign resulted in 150,000 books being read online in just five days. The resulting donations of children's books will be delivered to more than 700 schools before the end of the school year.
We Give Books (http://www.wegivebooks.org) enables people anywhere to put books in the hands of children who don't have them, simply by reading online for free. In communities large and small across the country, more than 50,000 students, educators, and families took part in the Read for My School campaign.
The ReadMobile tour will not only deliver the new children's books earned through Read for My School, but will also feature stories from the New York Times-bestselling Ladybug Girl books, a series created by the husband-and-wife team of Jacky Davis and David Soman. One of the books in the series, Ladybug Girl and the Bug Squad, has been named the official book of this year's Read for the Record campaign – an annual literacy event with millions of participants. The story is available now in the free We Give Books digital library (http://www.wegivebooks.org/books/ladybug-girl-and-the-bug-squad?auto_launch=1).
Each school that receives a Read for My School book donation will decide how to distribute the children's books it receives: adding them to its own school library, sharing them with students, or donating them to local community organizations, for example. By the end of the school year, as the ReadMobile continues its journey to additional states, the Pearson Foundation will have donated more than $1.5 million worth of quality children's books to elementary schools around the country through Read for My School.
"We Give Books has opened up a new way for our students to access books anytime they want to read and anywhere they have access to the Internet," said Andrea Harper, principal of T. A. Sims Elementary School #208 in Ft. Worth. "Our teachers are now using We Give Books on a daily basis. What the Pearson Foundation is doing is benefiting our children in ways we could not have imagined. We will be using the donated books to increase our school library."
"The response to the Read for My School campaign only reaffirms the need for programs like We Give Books," said Pearson Foundation President and CEO Mark Nieker. "The impact of this campaign will be felt long after the books have been delivered – in schools, homes, and local community centers."
Since We Give Books launched in 2010, the Pearson Foundation and Penguin have donated nearly a million books to schools and nonprofit organizations designated by readers who read from the free digital library of children's books at http://www.wegivebooks.org. We Give Books works with exemplary literacy partners in the United States and around the world to put books into the hands of children and families. To learn more about these partners, including Room to Read, Books for Asia, Harlem Children's Zone, and Jumpstart, visit http://www.wegivebooks.org/campaigns.
About We Give Books
We Give Books (http://www.wegivebooks.org) is a philanthropic program from the Penguin Group and the Pearson Foundation that helps children become lifelong readers and givers. Together, Penguin and the Pearson Foundation support literacy through programs that engage entire communities. Working around the world through programs like Booktime and Jumpstart's Read for the Record, Penguin and the Pearson Foundation have touched millions of lives in thousands of communities. To learn more about the We Give Books program and its nonprofit partners, go to http://www.wegivebooks.org.
About the Pearson Foundation
The Pearson Foundation is an independent 501(c)(3) nonprofit organization that aims to make a difference by promoting literacy, learning, and great teaching. The Pearson Foundation collaborates with leading businesses, nonprofits, and education experts to share good practice; foster innovation; and find workable solutions to the educational disadvantages facing young people and adults across the globe. More information on the Pearson Foundation can be found at http://www.pearsonfoundation.org.