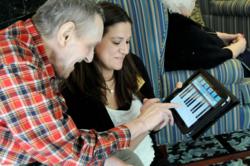 The iPad's easy touch-screen technology makes it a remarkable hands-on experience for seniors.
Quincy, MA (PRWEB) April 16, 2012
Staying connected. Learning new skills. Surfing the Internet. A new iPad class recently debuted at Welch Healthcare & Retirement Group's Allerton House Assisted Living Community at Hancock Park in Quincy, MA, and residents couldn't be more excited. Just as Apple Computer began selling the latest version of the iconic tablet, seniors at Allerton House were adopting the technology for fun, learning and socialization. They composed music on the keyboard display; played the Scrabble-like game "WORDS with friends®;" checked for weather and news updates and asked a lot of questions.
Part of the Massachusetts assisted living community's Computer & Technology Club, the new iPad class is led by Resident Services Director Christine Nash. She says seniors adapt easily to cutting-edge technologies because they want to keep mentally challenged and up-to-date on "what's new." The tablet technology, with its vibrant colors and touch-screen is easy for many older adults to use. It also allows them to display and share family photos and snapshots of the grandchildren. Because so many seniors are also avid readers, Nash says the next step for the residents of the Welch Group's Quincy assisted living community will be to purchase a wide array of magazine subscriptions for the mobile device.
The Nielsen Company reported in 2009 that Internet use by individuals 65 and older had increased by more than 55 percent to about 17.5 million users. Seniors are doing everything from checking their email to posting photos online to viewing the weather on the web. Allerton House at Hancock Park is part of Welch Healthcare & Retirement Group's continuum of care in Quincy, MA. In addition to the assisted living community, the continuum features Hancock Park Rehabilitation & Nursing Center, with a dedicated Alzheimer's Care Center and an Adult Day Health Program at Hancock Park. For more information or to schedule a complimentary luncheon and tour at Allerton House at Hancock Park in Quincy or, one of the other four Allerton House Assisted Living Communities on the South Shore of Massachusetts, visit online at: http://www.assistedlivingmablog.com