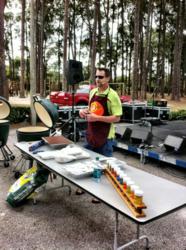 "I've been cooking on the Big Green Egg® since 1998, and our competition team has been winning awards with our EGGs® for 10 years. We love the durability, versatility and reliability of these kamado-style, ceramic cookers,"
Manassas, Virginia (PRWEB) April 15, 2012
The Dizzy Pig Barbecue Company (http://www.dizzypigbbq.com) is pleased to announce that Big Green Egg® enthusiasts will be grilling their favorite recipes at a cookout invitational with special guests, Lee Ann Whippen and Mike Schweitzer.
Dizzy Pig Barbecue Company, maker of brightly flavored and perfectly balanced seasonings for barbecue, grilling and home cooking, is hosting its second "DizzyFest," on Saturday, June 9th from 8:00am to 4:00pm in Manassas,Virginia. The event features up to 30 avid Big Green Egg® ( http://www.biggreenegg.com) cooks, along with friends, family and barbecue-lovers, at the company's storefront for a day of sharing their favorite recipes and enjoying delicious food. Special guests Lee Ann Whippen will be on hand to offer up her best tips and tricks on grilling and Mike Schweitzer will be talking about his versatile grilling tool, the Gridlifter.
Lee Ann Whippen ( http://tlc.discovery.com/tv/bbq-pitmasters/pitmasters/lee-ann-whippen.html) is the Executive Chef/Partner of the new urban BBQ restaurant Chicago q. Lee Ann Whippen is also President and Owner of Wood Chick's BBQ Restaurants & Catering Company, Lead Pitmaster for Wood Chick's BBQ Competition Cooking Team for more than 14 years, and has starred on several TV shows including TLC's BBQ Pitmasters and Food Network's Throwdown! with Bobby Flay.
Mike Schweitzer (also known in BBQ circles as the "LawnRanger"), in the summer of 2002, created a tool called a Gridlifter, and sent the first two prototypes to Chris Capell.  This transaction succeeded in altering LawnRanger's very way of life for the next decade.Schweitzer is currently the Acting Director of Buildings and Grounds at Trinity University in San Antonio, Texas.
"With Chris' endorsement, sales surpassed the wildest expectations," Schweitzer said.
The Dizzy Pig store specializes in the sale of Big Green Egg® cookers and their accessories, providing expert service as well as advice on cooking on Big Green Eggs®.
"I've been cooking on the Big Green Egg® since 1998, and our competition team has been winning awards with our EGGs® for 10 years. We love the durability, versatility and reliability of these kamado-style, ceramic cookers," said, Dizzy Pig CEO, Chris Capell.
Dizzy Pig is pre-selling demonstration Big Green Eggs® used for the event at generously discounted rates, and offering 10% off of EGGcessories™ and other grilling supplies at the store. The Dizzy Pig store carries many tools and unique sauces along with the Dizzy Pig seasonings that can't be found anywhere else in the area. Tickets are on sale now on Eventbrite (http://dizzyfest.eventbrite.com/).
About Big Green Egg
Big Green Egg Company®, headquartered in Tucker, Georgia, is the world's largest producer and international distributor of ceramic kamado-style cookers. Founded in 1974 by Ed Fisher, the company has an impeccable reputation for offering top quality products and excellent customer service. The EGG® offers unmatched cooking flexibility and capability that surpass all other conventional cookers combined. It is a smoker, a grill and an oven and enables year-round cooking. Five sizes of the EGG® and an extensive line of EGGcessories™ are available in barbecue and hearth specialty stores, pool and patio shops and select hardware and garden/nursery outlets. For more information or to find a retailer near you, visit http://www.biggreenegg.com.