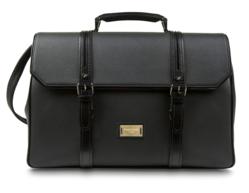 The hand-sewn "Pineider 1774" brass tag reflects Pineider's heritage
Gloucestershire, UK (PRWEB UK) 13 April 2012
Pineider's stunning new NeroVero collection has just arrived at Luxury Artisan.
All of the products in the collection are handmade in Italy from a coated canvas material and smooth calfskin. The products' contemporary designs combine practicality with timeless Italian style.
The coated canvas material gives the products a lightweight feel, as well as making them scratch and water-resistant, without compromising quality. As such, they are perfect for discerning people with busy lifestyles.
NeroVero translates literally as "true black", so you wouldn't be surprised to hear that the collection is only available in black. As Henry Ford once said "you can have any colour, so long as it is black."
As you would expect from a quality brand such as Pineider, the attention to detail on the bags and accessories is second to none. One element that I particularly like is the hand-sewn brass tag on the front of all the products, engraved with "Pineider 1774". This reinforces the heritage of Pineider, which was established in Florence in 1774 by Francesco Pineider.
Luxury Artisan is an internet retailer of luxurious Italian leather goods to the discerning individual. Since launch in late 2011, Luxury Artisan has supplied quality handmade leather goods to customers worldwide. For more information on Luxury Artisan, please visit the Luxury Artisan website.