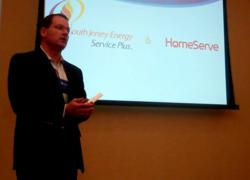 "Those utilities that offer emergency repair service plans are directly addressing the issue, and as a result, have a higher level of trust from their customers" said Tom Rusin, CEO, HomeServe USA.
Fort Worth, TX (PRWEB) April 13, 2012
HomeServe USA (HomeServe), the premier provider of emergency repair service plans, in partnership with South Jersey Energy Service Plus (SJESP), presented the results of a landmark study on customer service, and homeowner attitudes toward their utility companies1. The results were announced at the AGA/EEI (American Gas Association/Edison Electric Institute) Customer Service Conference & Exposition in Fort Worth, Texas.
HomeServe CEO Tom Rusin, along with Michael Halter, Vice President from South Jersey Energy Service Plus unveiled the results of the study, which found that emergency home repair service policy holders surveyed rate their utility much higher than non-policy holders - a 40 percent increase for gas utilities and a 36 percent increase for electric utilities. Additionally, 59 percent of non-policy holders would have an improved opinion of their utility if they were offered an emergency repair service plan. HomeServe USA currently partners with 25 of the nation's leading water, gas, and electric utilities to offer services directly to homeowners.
"Many homeowners are putting off home repairs, either due to a lack of funds or because they just don't know who to call," said Rusin. "However, those utilities that offer emergency repair service plans are directly addressing the issue, and as a result, have a higher level of trust from their customers. Of course, I'm especially pleased that our programs increase customer satisfaction levels for our partners."
According to survey results, one third of respondents indicated having an experience with or knowing someone with a home plumbing problem in the past 12 months, 20 percent with an electrical problem, and 23 percent indicated multiple problems; with 53 percent of respondents likely to contact their utility company when faced with a future home emergency repair situation. Therefore, utilities have an excellent opportunity to meet and exceed customer expectations by offering emergency repair service plans.
Additional survey findings revealed at the industry conference include:

More than half of surveyed respondents indicated that it is appropriate for their utility to provide product and service offerings.
81 percent of non-policy holder respondents feel they should be informed by the utility when certain repairs will not be covered.
Nearly two out of five respondents say it's hard to find a reliable repair service
The majority of respondents feel that they don't have enough money on hand for a $1,000 home repair.
"Many customers today are unable to afford these types of emergency home repairs, which is why we believe it is so important for our industry to provide an affordable alternative for our customers," said Michael Halter of South Jersey Energy Service Plus. "We look forward to continuing our partnership with HomeServe to provide our customers with a valuable way to protect their most important asset – their home."
HomeServe USA services a customer on average every two minutes of every day. The company currently protects more than one million homeowners across the U.S. for a nominal monthly fee. By partnering with HomeServe, utilities get a trusted partner who does virtually all the work – from marketing to claims handling – with no financial or operational risk. There is no cost for HomeServe partners to participate and they receive a share of revenues. Utility customers have access to a 24-hour emergency hotline that will dispatch a contractor to make any necessary repairs.
Further, HomeServe USA builds and maintains a network of local, licensed and qualified contractors in the areas it serves. Contractors are screened and assessed before joining the HomeServe network and making any repairs at a customer's home. And the work is guaranteed. HomeServe USA has a 96 percent approval rating among customers surveyed after receiving service under the plans.2
About HomeServe
HomeServe USA Corp (HomeServe) is an independent provider of emergency repair service plans. The company was established in the US in 2003 and has grown to protect over 1 million homeowners across the US against the expense and inconvenience of water, sewer, electrical and other home emergencies. HomeServe dedicates itself to being a customer focused company offering best practices in marketing and service. For more information about HomeServe, please go to http://www.homeserveusa.com
About South Jersey Energy Service Plus Service Plus
A member of the South Jersey Industries family of companies, SJESP is a complete provider of residential and commercial HVAC installation, service, appliance repair and plumbing services, and is southern New Jersey's leading authority on energy efficiency.
Editorial Contact, HomeServe: Beth Crisafi/Lauren Weybrew, Gibbs & Soell Public Relations, 212-697-2600, bcrisafi(at)gibbs-soell(dot)com or lweybrew(at)gibbs-soell(dot)com
Myles Meehan, 203-356-4259, HomeService(at)homeserveusa(dot)com
# # #
1. 2012 survey of HomeServe policy holders and non-policy holders conducted by Ipsos Public Affairs
2. HomeServe 2011 Post Service Customer Survey