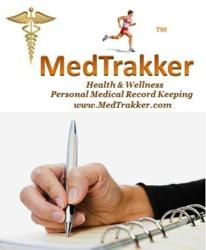 MedTrakker's goal is to empower individuals to receive better quality healthcare. By offering a Personal Medical Record Organizer that enables better communication between the patient and their entire healthcare team.
Winchester, VA (PRWEB) April 14, 2012
Imagine being diagnosed with Diabetes, Chronic Obstructive Pulmonary Disease, Leukemia or even Cancer… now imagine what's involved in receiving care for any of these conditions. It's like receiving a whole new education. Medtrakker has taken the guesswork out of personal medical record keeping. Maintaining, updating and keeping health records accurate can be so complicated. This paper record keeping system has revolutionized the whole process. No more dragging around manilla folders, notebooks and day-timers with scribbled on pieces of papers and business cards. Medtrakker has introduced a concise organized way to keep track of everything a patient needs to know about their personal healthcare.
Maintaining one's own medical records offers a major stress relief, especially when filling out physician and hospital forms. Everything a patient or a loved one needs is in one place. Forgetting important details about your medical history, such as Surgeries, Medications and dates can be frustrating and result in repeated tests and in some cases duplicating medical procedures. Knowing everything about a patient's medical history is essential in sharing accurate information with new doctors.
"It was difficult to focus on remembering all the procedures, appointments and medications that I had to remember when trying to manage care for my mother's leukemia," said Author Amber Bowden. There's enough to worry about when trying to comfort a loved one, these personal medical record keepers help lighten the burden.
There are sections to record appointments, important contact information, medications, tests and surgical procedures, questions to ask physicians, physician comments, important notes, daily exercise and diet logs and so much more. Medtrakker has designed personal medical record keeping systems for Diabetes, Cancer, and Cardiac care. In addition check out Baby Trakker. A new Baby Book that includes everything you need to track baby's well being, growth and development for the expectant mother. Baby Trakker is designed to take a lot of the guesswork out of family histories, keeping track of prenatal healthcare, tracking nutrition and questions throughout pregnancy.
You can find all of Medtrakkers personal medical record keepers exclusively online at http://www.medtrakker.com/.
Author Amber Bowden is available for speaking events, book signings and expert quotes and can be reached at Linkedin or on Twitter to answer further questions regarding the whole family of MedTrakker Personal Medical Record Organizers.