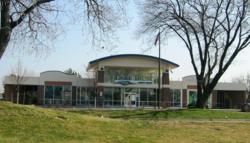 Grand Haven, Michigan (PRWEB) April 13, 2012
Lake Trust CEO, David Snodgrass, along with branch manager, Melisa Miller and Grand Haven Chamber of Commerce member, Pam Blake will celebrate the Grand Opening and Ribbon-Cutting of the new Lake Trust Credit Union Grand Haven branch, at 3:30 p.m , Monday, April 16, at the new branch located on the busy corner of US-31 and Robbins Rd. in Grand Haven. The new branch is built in a formerly vacant building.
Terri Guastella, Project Coordinator at Lake Trust has been working closely with the city during the reformation of the building. "The city of Grand Haven is thrilled to have Lake Trust come in and remodel this building, as it was formerly dilapidated and overgrown," says Guastella. "We're really excited to be able to build up this intersection and it's a prime location for our members."
The building also offers many member and environmentally-friendly features.
"We love the design of the new building, it's hip and bright, and we've added many nice features for our members including a kid's corner, a café station and an Internet Banking Kiosk," says Branch Manager, Melisa Miller. "The new branch also offers many 'green' features such as LED lighting, automatic motion sensors and even our drive-thru system is energy efficient."
Remodeling that incorporates the updated brand has already been implemented in Lake Trust's new Stadium branch in Ann Arbor, and will continue across the Credit Union's 21 branches in the state of Michigan.
Miller also appreciates how convenient the new location is to members. "The branch is located on a busy intersection, and is right off the main strip," says Miller. "We also have installed a driveway in the back that connects to the service drive to Meijer, so members don't have to battle traffic on the busy intersection; we're really looking forward to serving our members in this new location."
Visit The CU Scoop to learn more about Lake Trust's community involvement and projects.
Lake Trust Credit Union, as Michigan's fourth largest credit union and headquartered in Lansing, stretches from Lake Michigan to Lake Huron and Lake Erie. With over $1.5 billion in assets and 21 branches strong, Lake Trust provides its almost 156,000 members best-in-class products and offers individualized, trust-based member service. Membership is open to anyone within its 35-county service area. Learn more about Lake Trust Credit Union at laketrust.org.
Follow Lake Trust Credit Union on Twitter at http://twitter.com/lake_trustcu