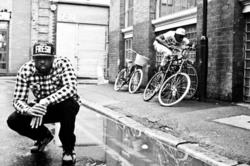 We get lots of famous faces arriving at the studio
London, UK (PRWEB UK) 14 April 2012
La Mode London have their praises sung, hip-hop style, with the launch of a new singing sensation and thanks to a brand new photographic portfolio.
La Mode are no strangers to having many models through their doors on a regular basis, but it's not only models that come to the model advice specialists to launch their careers.
'The Appeal' is a new London based hip-hop group made up of two members, Doom Man and Silky, and they were stars for the day at La Mode's photographic studio.
'It was great to work with 'The Appeal' recently', continues Helen. 'They have so much energy and the photographs that were produced at the end of the day, have definitely brought out their flavour in music.'
With a fusion of old school appeal and a new futuristic sound, the London based Hip Hop band are produced by the mysterious Froback, The Appeal are a pair of extremely creative individuals. Their energy can't be matched on or off stage. Doom Man and Silky feel inspired by Froback's beats and instinctively knew their new sound would separate them from the rest of the competition. The group have been in the studio working furiously on a debut EP, which was released on You Tube recently.
'We get lots of famous faces arriving at the studio to have photo shoots taken to promote new albums, films or TV programmes. It was a fantastic experience working with 'The Appeal' and the photographs look absolutely stunning as usual,' complements a very proud Helen. 'We have such a talented team of creative people here at La Mode, not just the photographers and technicians, but all the beauty artists and hair stylists. All the team work so closely together and it always shows through in the end results.'
La Mode specialises in tailored model advice, but they also have tips and tricks they pass on to not only models, but singers and songwriters, to actors and actresses, and now, to hip-hop artists.
'The Appeal have had a lot of photo shoots previously, Doom Man has been performing in venues all across the UK and Europe with a career that has spanned over 10 years, but I'm very proud to boast they accolade our team here at La Mode, with the best they've ever worked with'.
Helen goes onto say, 'We produce a product for a model, an actor or a singer to use as their toolbox, their professional portfolio to help them promote themselves and find work.'
It certainly seems a picture tells a story and The Appeal's tale is only just beginning. With the help of La Mode London, their profile in pictures just raised the bar for hip hop artists launching their own careers. Visit http://www.lamodelondon and peruse the portfolios made for the next generation of stars.