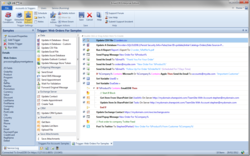 Orlando, FL (PRWEB) April 16, 2012
Parker Software who list, NASA, Carrefour, Honeywell, Adobe, and Cisco as their clients have announced today a major software release for 2012. Email2DB V3 a combined message parser, message automation server and email server. Following on from its previous incarnation the new release ultimately provides a significantly enhanced feature set, improved integration options and a more scalable solution.
Email2DB can be used to read Email Messages, Database Records, Twitter Feeds, Web Pages, RSS Feeds and other sorts of messages from multiple sources and then extract useful information to update databases and perform multiple automated actions. Helping to automate processes that need to occur when your business receives incoming messages dynamically and respond to things happening on the web.
Alongside Email2DB's existing features, such as the ability to automatically retrieve and parse email and web messages and extract information from these to update business databases and the ability to send automated responses, Email2DB V3 now includes the following Key Features.
CRM & Service Desk Integration
Email2DB integrates with SalesForce, Microsoft Dynamics CRM and Autotask to provide enhanced email integration.
Exchange & Office 365 Integration
Email2DB now provides the ability to synchronise messages with multiple exchange accounts, update exchange contacts, add calendar appointments or tasks utilising Exchange Web Services.
Social Network Integration
Monitor and read Twitter for specific keywords about your business. Automatically post Tweets and Facebook updates to improve social response.
SharePoint Integration
Create new Microsoft SharePoint list items or update existing ones. Automatically upload files or attachments to a Microsoft SharePoint site from received messages.
In addition to these key features further enhancements to the software architecture and administrator have also been made. These enhancments make it easier to configure the software with a new easy to use interface design, drag and drop functionality, improved processing capabilities, security, resiliency and further integration with various database types.
Details are expected to follow with reference to a new cloud based service and a datacentre edition for enterprise clients.
Further Information can be found at http://www.email2db.com.