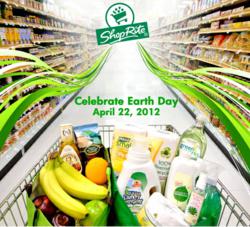 In 2011 alone, ShopRite customers reused more than 58 million paper and plastic bags.
Keasbey, NJ (PRWEB) April 13, 2012
Leading up to this year's Earth Day, ShopRite customers have been forming "green teams" for the annual ShopRite Earth Day Challenge. The annual event encourages customers to beautify their communities by cleaning up litter from local parks and beaches. In the 2011 Challenge, more than 4,000 volunteers teamed up to clean more than 35 local communities, wearing gloves and using trash bags donated by ShopRite.
There is still time to register green teams for this year's ShopRite Earth Day Challenge. Customers can call 1-800-ShopRite to register.
For many years, ShopRite has provided funding and cleanup materials to community groups who make a difference in the environment. From litter abatement, coastal cleanups and tree plantings to threatened and endangered wildlife efforts, ShopRite has been there. Additional environmentally-focused programs in place at Shoprite include in-store recycling and composting; the installation of solar panels on the roofs of select stores; super-efficient "green" refrigeration systems and energy-saving lighting systems in many locations; and a chain-wide bag re-use program. In 2011 alone, ShopRite customers reused more than 58 million paper and plastic bags. For more information about how ShopRite works to reduce its impact on the environment, please visit http://www.ShopRite.com.
About ShopRite
ShopRite is the registered trademark of Wakefern Food Corp., a retailer-owned cooperative, based in Keasbey, NJ and the largest supermarket cooperative in the United States. With more than 240 ShopRite supermarkets located throughout New Jersey, New York, Pennsylvania, Connecticut, Delaware and Maryland, ShopRite serves more than five million customers each week. A long-time supporter of key community efforts, ShopRite is dedicated to fighting hunger in the communities it serves. Through its ShopRite Partners In Caring program, ShopRite has donated more than $27 million to 1,700 worthy charities and food banks since the program began in 1999. As a title sponsor of the LPGA's ShopRite Classic, ShopRite has raised more than $24 million for local schools, hospitals and community groups. For more information, please visit http://www.ShopRite.com. Progressive Grocer named ShopRite its 2011 Retailer of the Year and Supermarket News awarded ShopRite its 2011 Retail Excellence Award.