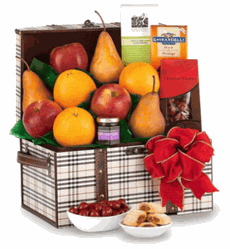 Others may opt to send their recipients a gift of a jack o lantern and candle, as these are two symbols of Halloween that are thought to ward off bad spirits and encourage good luck
New York, New York (PRWEB) April 13, 2012
Gift baskets have long held the reputation for being a thoughtful gesture that can convey a range of sentiments to the recipient. With the air of mystery that often surrounds days filled with superstition, leading gift basket retailer, Mygiftbasketideas.com, is writing an exploratory report that delves into the history of superstitious days like Friday the 13th in order to determine the appropriateness of having gift baskets delivered on the 13th.
Company representative, Leo McFinn says that his company has long been intrigued by the way in which superstition drives their customers to send gift baskets to their friends, family members, and coworkers. "The object of this report was to research the history of specific superstitions and superstition-laden days so that we could share our findings with customers who may be mystical-minded. An interesting discovery about Friday the 13th is that there is no concrete evidence to support why this day has long been considered so unlucky. There are several theories about the original of the superstition surrounding the 13th, and it seems that several books, and more recently, movies have played their own role in further expanding on the superstitious beliefs."
"Our report also discovered that there is a large faction of our customers who have sent gift baskets on these superstitious days as a way to extend a bit of luck to their loved ones, or as a way to make light of the superstitions. As an example, we see a large fluctuation in baskets being sent around Halloween that include plush black cats, spiders, and bats. Black cats have long been thought to be bringers of bad luck, especially around Halloween. So naturally it makes sense to deliver a gift basket filled with these traditionally bad luck charms as a way to poke fun at the superstition."
"Others may opt to send their recipients a gift of a jack o lantern and candle, as these are two symbols of Halloween that are thought to ward off bad spirits and encourage good luck," Says McFinn.
The newly released report is an interesting read that might do nothing to lessen your fears about Friday the 13th and other superstitions, but it could also provide a bit of insight into the correlation between superstitions and gift baskets that can help to offset and superstitious consequences.
To find the report when its releases soon, or if you're up for finding out if the superstition is fiction or fake, order a gift basket today at http://www.mygiftbasketideas.com.