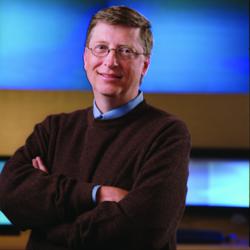 Microsoft founder Bill Gates, the world's second richest man, and his family arrived in Belize 10 April aboard the Attessa IV.
(PRWEB) April 13, 2012
Bill Gates' daughters' visit to a popular Belizean eco resort highlighted the fact that no matter their background, kids will be kids when immersed in the natural beauty of the rainforest environment, The Lodge at Chaa Creek's spa manager, Bryony Fleming, said today.
Ms. Fleming said that 16 and 7 year old Jennifer and Phoebe Gates visited Chaa Creek with a young friend for an enjoyable day in the rainforest that included a visit to the Butterfly Farm, lunch and some pampering at the Chaa Creek Hilltop Spa.
"One thing you really notice is how similarly kids respond to the rainforest environment, no matter their cultural, national or economic backgrounds," Ms. Fleming said, "The look of wonder when they're surrounded by beautiful, gigantic Blue Morpho butterflies, and seeing them go from pupae stage to being released into the forest – it's a fascination that all people, whether young and old, seem to share," she said.
The Lodge at Chaa Creek sits within a private 365 acre nature reserve and with a Natural History Centre, Butterfly Farm, professional spa and amenities including a fine restaurant, jungle lounge, pool and numerous other attractions is Belize's most recognized eco resort and a popular destination for families visiting Belize.
Microsoft founder Bill Gates, the world's second richest man, and his family arrived in Belize 10 April aboard the Attessa IV, a private 330 ft. super yacht currently anchored off the Belize Barrier Reef near San Pedro town on Ambergris Caye. The Attessa IV is cleared to be in Belizean waters until May 9th and the Gates' are expected to visit the Hol Chan Marine Reserve, the Turneffe Atolls and the famous Blue Hole, according to the San Pedro Sun. Chaa Creek was the family's first inland destination, and the girls arrived by a private helicopter launched from the yacht's helipad.
Ms. Fleming said the two teenage girls enjoyed a pedicure and nail polishing while the younger Phoebe was enthralled with releasing a butterfly from the glass nursery box and "make a wish" poem all young visitors to Chaa Creek find in their rooms upon arrival at Chaa Creek.
The girls then enjoyed a pizza and pasta lunch at the restaurant before boarding the helicopter for the ride back to the yacht.
"It was wonderful to see how much the girls enjoyed their stay and how enchanted they were with the butterflies, natural beauty and other things we tend to take for granted," Ms. Fleming said. "We respect all our guests' privacy, so no one knew who they were and I think they enjoyed just being able to be themselves and having a relaxing visit away from the public glare. "
The girls seemed to be enjoying Belize and said they wished they could stay longer but "had to go back home for school," Ms. Fleming said.
"It just goes to show that no matter who your father is, some things never change," Ms. Fleming laughed.