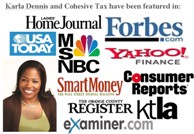 "I don't have enough words to describe the respect I have for Karla, except to say that I am fiercely proud to know her and to call her, friend"
~ Loral Langemeier
(PRWEB) April 13, 2012
This announcement is of a public webinar for anyone to join and listen in to hear Karla Dennis speak about the lessons learned form this years tax filing and what people should do going forward once that tax season is over.Learn from the nation's foremost financial and tax expert.
Everyone is invited to this web conference, on Tuesday, April 17, 2012 5:30 PM Pacific, where she reveals the steps to take going forward, that help ensure a smoother tax season going forward and why planning ahead is extremely beneficial.
Click Here Now To Register For The Tax Planning Webinar.
Get an inside look into the mind of a tax guru as she reveals the most overlooked part of tax season; planning the rest of the year and setting yourself up for success for the next year's return. Learn to save money and pay less taxes, by having a plan implemented long before you need it. This is the information every taxpayer needs in order to come out ahead in a complicated tax season. As Karla is known to do, this information is being made available to the public at no charge.
What this means to every attendee:
Listeners get a no hold barred look at the tax benefits of analyzing their current tax return, as well as the ins and outs of how it helps to set a plan in place early, in order to tax the most advantageous steps. Karla is well aware of the pitfalls that await the unsuspecting taxpayer and potential business owner, and she willingly shares the steps to take.
The goal of this is to educate and inform. Anyone can learn to take the information from an expert and apply it to their business. Learn to take that first step. Join Karla for one of her weekly teleconferences and learn. No one will be disappointed.
Karla Dennis is the Founder and CEO of Cohesive Tax, which is a tax planning firm like H&R Block's second look review. Karla Dennis is actively sought as a tax expert by the media and has been quoted by Smart Money, CNBC, Consumer Reports and MSNBC. She actively speaks to various business leaders, executive organizations, trade groups, community factions and civic gatherings and area Chambers of Commerce.