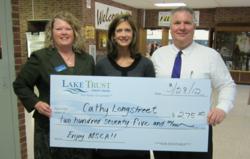 "This conference will have a large impact on my ability to help students in the future," says Longstreet, high school student counselor. "I so appreciate this opportunity."
Hastings, MI (PRWEB) April 13, 2012
Lake Trust Credit Union has awarded Michigan Educator Cathy Longstreet, Counselor at Hastings High School, funding through the organization's Professional Development Award Program.
The Professional Development Award Program, established by Lake Trust in 2010, provides financial assistance to Michigan educators for out of classroom/school professional development opportunities such as workshops, association conferences, and training.
Since 2010, during times when funding has been hard to come by, Lake Trust has supported 23 educators in receiving this specialty training. This year, Longstreet will attend the Michigan School Counselor Association Conference in Kalamazoo, MI on November 6-7th.
Longstreet has been working as a K-12 student counselor for 16 years, and is currently the sole counselor for the Hastings High School population of 900 students.
"This conference will have a large impact on my ability to help students in the future," says Longstreet. "Due to budget constraints, I haven't been able to attend in the last four years; I used to go every year because the topics are so current and relevant to my work. I so appreciate this opportunity."
Nicole Piche, Student Program Specialist at Lake Trust Credit Union, appreciates the opportunity to help provide this resource for today's educators.
"Cathy is very deserving of this award and I'm so excited that we're able to help provide this unique opportunity to her and other Michigan educators," says Piche. "We're committed to supporting financial education in Michigan schools."
Lake Trust offers funding for summer/fall 2012 conferences – submit your application by Wednesday, November 14, 2012. Interested educators may email PDaward(at)laketrust(dot)org to request an application.
Lake Trust strongly believes in supporting education in the communities it serves. The organization is currently awarding a total of $12,000 in scholarships to area high school students in their 21 branch communities around the state. In addition, the Credit Union conducted several seminars in February to help parents and students prepare for college and understand their award letters.
Visit The CU Scoop for helpful student resources and to learn more about Lake Trust's involvement in student education.
Lake Trust Credit Union, as Michigan's fourth largest credit union and headquartered in Lansing, stretches from Lake Michigan to Lake Huron and Lake Erie. With over $1.5 billion in assets and 21 branches strong, Lake Trust provides its almost 156,000 members best-in-class products and offers individualized, trust-based member service. Membership is open to anyone within its 35-county service area. Learn more about Lake Trust Credit Union at laketrust.org.
Follow Lake Trust Credit Union on Twitter at http://twitter.com/lake_trustcu
###